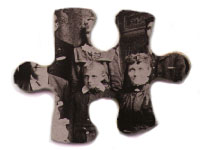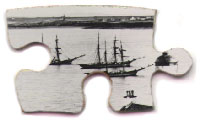 Highland Archives
SATURDAY NIGHT
By Stephen Cashmore
The opening line of an old Mott the Hoople song tells us that it's a mighty long way down rock'n'roll, and Alisdair Wordie is first-hand familiar with a fair stretch of that particular road. Since starting out with Zebidee's Morgue back in the first 'Summer of Love' era, Alisdair has been one of the permanent features of the Far North music scene. The number of bands graced by Alisdair is truly legion, but among the standouts are Five Aside and Arizona. Nowadays he plucks bass and sings lead with the Band of Cheorge, along with lead guitarist Fraser Bain and drummerman Raymond Willox. Three accomplished musicians, they make a lot of good noise, mostly at their regular venues in Wick's Town and County Club, and the Redwood Lounge, Thurso where they appeared last Saturday night.
Saturday night - a magic phrase among working folk the wide world over. A night to let your hair down, drink, dance, laugh, and exorcise all your workaday sorrows. Years and years ago, the dirt-poor labourers who sweated an existence in the mines, mills and plantations of the USA looked forward to Saturday night with all the enthusiasm of a devout pilgrim setting out for Mecca. Many of these folk were offspring of Scots, English and Irish immigrants, driven from their own countries by the goad of poverty. Packed in the scanty baggage of these early settlers was a mishmash of traditional songs and tunes which, under the influence of new surroundings, grew into what became known as Country Music. Country music articulates the dreams and chronicles the day-to-day dilemmas of ordinary human beings. That's it and that's all there is. And there's no need for anything more. Unsophisticated and straight to the point, it is the sound of Saturday night for sociable souls of all ages.
Together with Blues, Country has been the inexhaustible mine from which so many rock'n'roll nuggets have been unearthed. From Hank Williams to Bob Dylan the whole history of rock is littered with songs rooted in the old hillbilly tradition. At their Redwood gig Cheorge treated us to a few choice examples of this tradition. They opened with a lively version of Kenny Roger's Rueben James, followed shortly after by I'm a Believer, a Neil Diamond song. Cheorge made such a good job of this number that it was possible to forget that it was originally written to give credibility to the Monkees. One thing Cheorge are expert at is blending songs together in a seamless fashion. Thus, it seemed the most natural thing in the world for Commander Cody's Wine to be combined with I'll Be Your Baby Tonight, one of Bob Dylan's better moments. Another was aired when Cheorge played Mr Tambourine Man, that great hymn to escapism that beds together so neatly with the Saturday night philosophy.
Creedence Clearwater Revival's John Fogerty was a hairy individual with a strong voice, so it was entirely appropriate that Alistair chose to revive two Creedence hits, Bad Moon Rising and Looking Out My Back Door. Another Fogerty connection came with Jambalaya. Originally released by its creator Hank Williams, Jambalaya became a country rock anthem when Fogerty recorded it in the early '70's under the pseudonym 'The Blue Ridge Rangers'. Solid stuff made for dancing and singing along to, which was just what the Redwood crowd did.
They sang along with many other numbers, too, and the dance floor was never empty, testament to the versatility of a band, whose wide ranging style has something for everyone with rhythm in their bones. Wise hands, Cheorge never bored us with anything even halfways pretentious. They know, no doubt, that Caithness audiences are too open-eyed to be taken in by the kind of pseudo intellectual rock associated with urban sophisticates, so-styled. A quarter of a century ago, fashionable music critics sneered at Don Williams. By comparison with King Crimson or Soft Machine, Don's country songs appeared homely and hick-like. Nowadays, next to no one remembers what numbers King Crimson wrote, let alone performs them; but on Saturday night quite a few joined in when Cheorge played Amanda.
Ultimately there was Phil Phillip's classic Sea of Heartbreak. This one opus sums up an entire genre. Isolated by the swamp lands around them, the Louisiana backwoods folk have learned to make their own entertainment. Exiled French Canadians, mixed race Indians, the offspring of renegades, outlaws and runaway slaves, all these interesting human varieties are combined in a gumbo stew whose musical expression is ultra contagious. In Louisiana, Saturday night is traditionally celebrated in style. I have no doubt whatsoever that somewhere among the bayous of that mysterious land, a two guitar and drums band was playing Sea of Heartbreak on the same Saturday night that Cheorge were performing it at the Redwood. Go and see then next time they're appearing locally, and leave your cares behind on the dance-floor.
Steven Cashmore 1999


Information contained on this page may only be used for personal use,any request for full or part publication must be carried out through the Highland archive.
Send information for these archives to william@caithnessarchives.org.uk