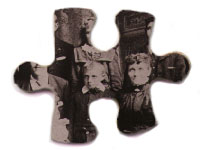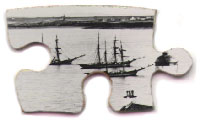 Highland Archives
Northlands Rock: Part One - Rebels with a Cause
In 1957 Frank Sinatra summed it up when he said; 'Rock and Roll is the martial music of every side-burned juvenile delinquent on the face of the earth.' The same year as ol' Blue Eyes made this statement, there were a few young men in Caithness who matched his description of a juvenile delinquent, but of 'Rock 'n' Roll' there was not, as yet, overmuch.
Today, the 'Fifties are the natural jumping off point of cultural nostalgia, being the years when teenagers were invented along with Rock 'n' Roll, popcorn, poni-tails, drape jackets, cinema seat slashing and Teddy Boys. The majority of young folk were, according to popular report, involved in these rebel escapades. It could all be true, but nostalgia. is 20% media invention and 80% romantic fiction, and all the rest is fact. Maybe.
The so-called Edwardian Style of the early 1950's has been seen as a male counterpart of Dior's famous 'New Look', which heralded female fashion's emancipation from the homespun utility clothes of the immediate post-war years, when rationing and the after effects of 6 years of austerity cast a dark shadow over clothing design. To the society peacocks of 1951 the elegant lines of long, velvet-collared jackets with Raglan sleeves and slimline trousers cut from gaberdine, must have seemed the perfect antidote to the crude, skin-rubbing, double-breasted abrasiveness of demob suits. However, there is reason to suspect that, like much high fashion, the Edwardian Style originated in a far different social environment from the perfumed world of top clothes designers.
South London had for many years been a place where rag-pickers stashed treasures in lock-up sheds hidden beneath out-of-the way railway arches, a place where backstreet scrap yards offered 'cash, no questions asked' deals to dubious customers. A rich vein of Gypsy blood ran through much of the scrap dealing fraternity and it may well be that certain of these Gypsy scrap men evolved a uniform of long jackets, mutton-chop side-burns, tight trousers and thick-soled shoes that was appropriated, with refined modifications, by the style gurus of Saville Row. Scrap dealing is an itinerant trade, its practitioners travel all over everywhere metal is bought and sold - Glasgow, for example. By 1955 the Teddy Boy look had reached Glasgow from where it was exported to the Far North by a small group of construction workers, come to help build an atomic research establishment at a place called Dounreay.
Among the working army brought to Caithness by the Clydeside firms of Whatlings, Motherwell Bridge and Findlays, there were a few Teddy Boys. Hard working young men who enjoyed dancing, drinking and the occasional fight, these Teddy Boys with their sharp week-end clothes became role models for certain local youths, discontented with traditional teenage life in Caithness. To the eyes of these dissaffected few, the superior sartorial graces of the drape-coated newcomers must have seemed a far cry from shortback and sides and the B.B.'s. And clothes were only part of the equation; attitude was equally important. A long, lean, surly-faced figure with greased-back hair, a trunk-like quiff hanging over his forehead, slouched insolently, hands-in-pockets against the wall of a dance hall projects a powerful image of revolt against the constraints of authority, of which parents are seen as the natural representatives.
To the responsible citizens of Caithness the attitudes of this new breed of teen monster in their midst must have been something of an affront. A generation brought up to respect the Kirk, the Queen, the Police and anyone older and wiser than themselves could scarcely be expected to understand what this new craze was all about. Ex-servicemen who would forever have the Sergeant Major's voice roaring in their ear, ordering them to 'get those shoulders back', and 'keep your head up', swelled with anger when their sons, were seen on the public street, lounging in some shop doorway, spitting, swearing, mouthing blasphemies, in need of a haircut and generally outraging decent folk.
Television and American films were blamed by a Highland minister, who despaired of this godless generation which had abandoned the church in favour of the excessive violence, sex and brutality portrayed by television. He prophesied a complete breakdown of family life, indifference to religion and a rise in illegitimacy, the rate of which was already as high in the Highlands as it was in Jamaica, though why Jamaica was selected as a yardstick was not made clear. Statistics produced the Police and the Education authorities showed an increase in fighting, under-age drinking and truancy, and more under-sixteens of both sexes were smoking than ever before. Now, while Teddy Boys were not mentioned in any of these reports, their distinctive appearance and obvious untraditional manners must have made them a stand-out example of all that was wrong with teenagers back in 1957. No wonder that an old Thurso Teddy Boy remembers being ostracised by everyone who was half-ways respectable.
Not every section of society was entirely displeased with this new teenage fad, for, like all serious manifestations of elitism, it had a commercial aspect. Drape suits were not inexpensive, nor were brocade waistcoats, slim-jim ties and thick-soled shoes. When the first young Dounreay construction worker, his wallet filled with fresh pound notes, stepped in to Hepworths in Thurso, and asked to see the shop's selection of drape jackets, the assistant probably scratched his head in ignorance. But it was not long before such items were on display in the shop window. Black, charcoal and light grey, with velvet cuffs and collars, and gold or red linings. There was even a line in seconds: 'Misfit Drapes, 50 /- each. A lot of money 40 years ago. But recorded music was even more expensive.
Ten pounds a week was sky-high wages in those days, half that amount being the normal take-home for most workers. Gramophone records cost about 30 pence each for a 10 inch shellac disc, which was easily broken and difficult to store and transport safely. Music came from these discs when they were whirled round at 78 r.p.m, and tortured by a heavy steel needle, for the privilege of which it was necessary to shell out around £20 for a record player; twice that amount purchased an ugly great hunk of furniture known as a radiogram.
Despite the expenses involved, listening to recorded music was not an unpopular pastime in late '50s Caithness. In Thurso Chadwick's High Street shop sold records, as did Murray Sinclair's cycle shop, also in High Street, where a couple of boxes of 78's could always be found on the counter. In Wick there was more choice. At the Cliff, Clark's sold records and equipment for playing them; Jimmy Young, sax player with local band The Blue Rockets, had a record store in Shore Road; records were available in John Green's shop; and a husband and wife partnership had recently moved from Bridge Street into bigger premises in Victoria Place.
Jack and Joey Shearer started off selling musical instrument accessories from their house in Kinnaird Street. Later on they opened a music shop that sold records. By the mid1950's, interest in recorded music had come on sufficiently to justify an extension of their business. The Victoria Place shop stayed open until 11 p.m. on Saturdays, catering for those come fresh from bars with a tune in their head and a few shillings left in their pocket, and for country folk for whom Saturday was the only time they got in town. With Dounreay's construction phase in full swing it became profitable to take records on the road. After a day in the shop, Joey would pack a selection of the latest hits into an A35 van and head for the country, accompanied by a large Saint Bernard dog. Lybster, Castletown and Halkirk received weekly visits; Joey went to Thurso twice a week and to the Dounreay construction camp once, Jack going with her when she went there. Business was good and steadily got better. By 1957 The Music Shop was publishing a weekly Top Ten best sellers list in the Great. Slim Whitman, Malcolm Vaughan, Jimmy Shand, Ruby Murray and Kay Starr made regular appearances in this Top Ten, alongside examples of a kitchen-sink brand of music known as 'skiffle'; but Rock 'n' Roll .... In late April, 1957, a record called Forty Cups of Coffee appeared at number 6 on the Music Shop chart. It was by Bill Haley and His Comets.
Ever since musical archaeology became fashionable some 30 years ago, arguments have raged as to what was the first real Rock 'n' Roll record. Was it Jackie Brenston's Rocket 88 of 1951? The Crows Gee recorded around the same time? Or was it any one of a hundred other raucous up-tempo tunes that came blasting out of America in the early 1950's? Who cares? To most people in this country, Bill Haley's Rock Around the Clock was their first taste of this new jumpin', jivin', foot stompin', sound that galvanised a generation of embryonic cool cats.
Bill Haley is one of the great paradoxes of Rock 'n' Roll. Already on the verge of thirty when he first came to public notice, overweight, with a bland face and an even blander voice, his receding hairline hidden beneath a cowlick described as 'a kiss-curl', Bill Haley was an unlikely teenage idol. His band, too, were cut from the same wood, a bunch of middle-aged musical goons dressed in tartan tuxedos, who threw themselves about the stage, playing while lying on their backs, or clambering on one another's shoulders, grimacing all the time. It was buffoonery with a beat, embarrassing had it not been performed in support of a musical style that was simple, catchy and eminently danceable. The fact that today, 40 years since it was first heard here, Rock Around The Clock still has the power to get a dancehall crowd on its feet is testament enough to the potency of Bill Haley's back-bleat driven brand of Rock 'n' Roll.
In April 1957, the Pavilion cinema in Wick advertised a three nights showing of the film named after Bill Haley's smash-hit record. Cinema-goers were advised that, in current jive jargon, Rock Around the Clock was 'the most. A romance and rhythm story guaranteed to make you flip your wig with its coolection (sic) of rock personalities. Lay down your coins and dig this crazy show. It's real gone. Get With it.'
Legend, supported by written evidence, has it that wherever Rock Around the Clock was screened it was accompanied by rowdyness, riot and destructive misbehaviour. Wick awaited the film with some trepidation. By 5.30 p.m. on the evening of Rock Around the Clock's first showing, the queue was half way down the street. A full house of 670 were present for the first house which passed off with nothing more innocuous than handclapping and a few spasms of foot-tapping in time with the music. During the second house, however, feet were stomping on the picture house floor and whistles, hoots and catcalls were drowning out the soundtrack. The film was stopped to allow the Pavilion's manager, Mr Roy, to read the riot act to the audience who took good note of his stern advice, the film continuing with scarcely a sound to spoil it. This, then, constitutes the entire recorded history of teenage cinema hooliganism in Caithness during the 1950's.
As an inducement to good behaviour, a few days before Rock Around the Clock received its first Thurso showing, a Christian journal called 'Rally' published a message from Bill Haley to the youth of Scotland in which the great man acknowledged his debt to his church-going mother.'To get the most out of life you have to give. Give a certain part of your time to the Church.' This was Bill Haley's advice to the young, made at a time when he may have been 'the most' in Britain, but in America, where it really mattered, he was already cold gravy. Over there a Southern minister had pronounced judgement on the latest Rock 'n' Roll sensation. 'Elvis Presley is morally insane', the preacher declared. It was just the sort of recommendation any self-respecting Teddy Boy wanted to hear.
Enough has been written about Elvis Aaron Presley to sink the Titanic all over again. Testimonies to the adulation the man has commanded since he burst on to the popular culture scene 42 years ago, can be had in almost any village throughout the world. One example will suffice. A girl journalist, two years old when Elvis died, recently wrote that, despite his unreal, exploited life, a life of excess, over-indulgence, selfishness and irrational outbursts; despite his many awful films; despite dying alone on a toilet, physically wrecked, bloated and stuffed with drugs; despite all this and more, Elvis Presley was still the King. Amen.
In late 1958, records by Elvis Presley began to appear in the Music Shop's Top Ten. All Shook Up, Teddy Bear, Party, became familiar songs to Caithness teenagers who were soon treated to a sight of their idol when his films Loving You and Jailhouse Rock were shown at Wick and Thurso. The previous year The Girl Can't Help It had appeared on Caithness cinema screens. The plot of this classic Rock 'n' Roll film, paper-thin like almost all self-respecting Rock 'n' Roll story lines, was merely a device for promoting the talents (two of them) of Miss Jayne Mansfield. Musically it introduced Caithness teenagers to the sounds of Little Richard, Fats Domino and Gene Vincent whose records now started to feature in the stock of local music shops. The showing of these films did not, as far as is known, give any additional work to the local police courts. They had enough to do dealing with cases arising from another source of musical entertainment - dances.
Dancing was a major Caithness leisure pursuit in the late '50s. Six nights a week, from 9 'til late, a body could enjoy the delights of dance halls all over the county. Local groups of accomplished musicians turned out a wide variety of traditional and modern dance tunes. Sometimes, certain of these bands chanced their hands with the new music. For instance, in February 1957, Watten Rifle Club advertised a 'Rock-'n'-Roll Dance' at the Drill Hall. The same month Thurso Town Hall played host to a regular Monday Rock 'n' Roll night which started at 9.30. Ladies got through the door for half a crown; men paid a shilling more. There were dancing contests, and one week a 'Miss Waist' competition was announced. A bus was laid on to take jive weary construction workers back to Dounreay after the dance had ended. The success of these Thurso Town Hall Rock 'n' Roll nights is perhaps doubtful; they ceased to be a weekly event after the first month's run.
With its close proximity to the Dounreay construction site, where a thousand or more hard working men needed relief from hours of well-paid tedium, Thurso was the eye of the Caithness Rock 'n' Roll storm, such as it was in-1957. Other places in the county flirted with the new craze, the most intriguing being a Variety Dance staged by Durran W.R.I., which mingled Old Time and Modern Dancing in with Rock 'n' Roll. The music for this adventurous soiree was provided by the Wick Scottish Dance Band.- Do any of our readers remember this April 5th event?
Citizens of the Royal Burgh seem to have been somewhat starved of early opportunities to jump and jive to live Rock 'n' Roll,`although a commendable effort was made to stage regular dances at the Wick Rifle Hall. This enterprise received a setback when it was discovered that the way these dances were promoted and advertised was in contravention of War Office Regulations, and officialdom issued a stern rebuke.
As the decade advanced, the Boy's Brigade Hall in Wick became one of the premier Caithness venues for Rock 'n' Roll, much of it promoted by slick operators from the south, one of whom, Alan Martin Enterprises, was responsible for the April 1958 visit of Colin Hicks and His Cabin Boys, with Jimmy Wilson and the Melotones.
Colin Hicks had a famous singing brother - Tommy Steele, a young man guilty of molesting a number of rock 'n' roll-like songs in the late '50s. Tommy went on to become a popular family entertainer, a character the very antithesis of genuine rockers. Having a brother who'd charted in the Music Shop's Top Ten apparently gave Colin Hicks a high opinion of the power his name would command in Caithness. When the Thurso Town Hall opened its doors at 9 p.m., there was no great crowd, in fact, when the first few dancegoers came fresh from the pubs at 9.30, they found barely a dozen girls jiving halfheartedly to Colin Hicks and His Cabin Boys. Worse, these newcomers proved somewhat disrespectful to their distinguished guest, jeering, scoffing and dishing out a selection of ribald sarcasms. A true blue trouper, Mr Hicks saw out his set and left the Hall, everyone imagining that would be the end of matters. It was not. A few weeks later an article appeared in a national magazine in which a prominent rock 'n roller advised his fellow practitioners to avoid, at all costs, a miserable place called Thurso, where the locals were utterly ignorant of what constituted good music.
Colin Hicks & Co. were not the first 'up-from-the-south' rock group to visit Caithness; the previous September 'Scotland's Teenage Sensation', Sandy Bright and the Hi-Hats had played three nights at the B.B. Hall, Wick, and Thurso Town Hall, but they were the first to appear under the Martin Enterprises banner, whose next offering featured Billy Dean and His Deanotes. In August, 1958, Martin Enterprises advertised a variety show in Thurso Town Hall with Big Willie O'Leary and Jimmy Day.'Dance, Laugh and be Happy' the poster promised. However, the show was up against stiff opposition. At Thurso's Riverside a rival attraction was billed; Tommy 'Toes' Jacobsen, the Fabulous Armless Wonder, who played the piano, fired a rifle, threaded a needle and shaved a member of the audience with his toes. Folk flocked to the Riverside. The place was packed out. Not so the Town Hall, but then variety shows were meat and drink in those days; armless piano players were somewhat rarer offerings.
Whatever else Dounreay brought to Caithness, it cannot be denied that it brought people and money. For keen business brains the opportunities were legion. Two brothers from the Glasgow area, Bill and Dave Fehilly arrived in Thurso as painters working on the 'Atomic' houses, then under construction in Thurso by Alexander Hall's. The brothers painting careers did not last long, being abandoned for the role of music promoters, a role for which they appear to have been well suited, and for which the music scene in Caithness owes them a debt of gratitude.
The Fehillys started an upstairs coffee bar in Thurso's Princes Street, where K.T. Consoles now is. This coffee bar boasted a juke box chock-full of the latest Rock 'n' Roll records, expresso coffee and, most importantly, authentic atmosphere, genuine cool. Before long the brothers had branched out into live entertainment. Marketing innovations seem to have been the Fehilly's stock-in-trade; for instance one of their dances featured a pyjama contest in which young ladies paraded on stage dressed in nightclothes. Another crowd-pulling stunt was the offer of free stockings to the first ten girls through the dancehall door. Never mind, it amused people, it made money and the money made opportunities for local musicians.
By the late 50's Caithness teenagers, who now counted a good few new faces in their midst, began to gain a firmer grasp of what Rock 'n' Roll was really about. Records, TV shows such as Six-Five Special and Oh, Boy!, and Radio Luxembourg had wised them up to the wider world. They wanted to see quality acts from down the line. The Fehilly's catered for this demand, bringing to Caithness a succession of solid Rock 'n' Roll bands from all over Britain. These bands did not alone constitute a show; support acts were required to give the punters value for their pennies. These support acts were largely provided by local rock bands, young men mad keen on Rock 'n' Roll and skiffle. To play alongside professional performers from the south was, for these young locals, both a pleasure and an education, and the roots of many well-known Caithness musicmakers of later years were nurtured in the soil provided by the Fehilly promoted concerts.
In researching this article recurring evidence appeared of the problem of fighting at dances in the 1950's. This is a feature of Caithness, and indeed British, social history that cannot be denied; the newspapers of the time contain notorious accounts of punch-ups in dancehalls. However, in mitigation it can be said that, in Caithness at least, in those days fighting in general was of different nature to what it has recently become. Contests were on a one-to-one basis; no-one was stabbed or slashed; no-one was kicked, struck from behind or when on the ground; no-one fought who didn't want to fight, and no innocent passer-by was attacked.
The causes of fisticuffs seem to have been, almost without exception, alcohol-related. In the days of unlicensed dances the doors opened at 9.30 pm after the local bars shut. This was sound commercial thinking, as few would pay to get into a dance whilst the bars were still open. Drink was strictly forbidden at dances, and at some of the major venues customers were frisked as they came through the door. But there was.nothing to prevent a person from nipping out for a swig at a half-bottle, or downing a few bottles of pale ale in the toilet. At the smaller venues, policed only by a couple of stewards, half bottles were safely carried on to the premises where they were passed round, all and sundry taking a good gulp of lukewarm whiskey. This, along with a crowded floor, local and area rivalries, was a sure-fire recipe for trouble. A black eye, a night in a police cell and a £2 fine were the most serious consequences of dancehall violence in the 1950's. All part of growing up, and entirely in harmony with the ethos of Rock 'n' Roll.
In the next article in this series on the Caithness music scene, find out who played with the Blue Rockets, what was skiffle, and who performed it, and which well-known member of the Caithness arts community once played piano in a local rock band.
Steven Cashmore 1998


Information contained on this page may only be used for personal use,any request for full or part publication must be carried out through the Highland archive.
Send information for these archives to william@caithnessarchives.org.uk