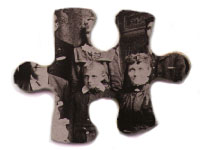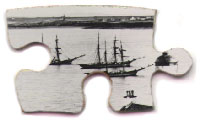 Highland Archives
DOUNREAY 1953 - DECISIONS AND DELAYS
A year ago a six part series in the John 'O' Groat Journal described the genesis of the United Kingdom Atomic Energy Authority's nuclear research establishment at Dounreay. Since those articles appeared further information has come to light which not only sheds light on the unexplained delay in formally announcing the choice of Dounreay as the chosen site for the experimental fast breeder reactor, but also provides conjectural evidence of the Far North's role in the Cold War.
On the morning of Whit Saturday, 23rd May 1953, three men shook hands on the arrival platform at Inverness railway station. Two of these men had just stepped off the overnight sleeper from Euston. They had breakfasted well on kippers, bacon and egg, sausage and baked beans, washed down with copious amounts of British Railways tea. The taller of this pair was already acquainted with the man who had come to welcome them to the Highlands, a stocky individual with a neat moustache and a brusque military manner that marked him out as the old style Scottish Unionist he truly was. The tall stranger was Sir Christopher Hinton, head man at the Ministry of Supply's nuclear engineering headquarters at Risley, in Cheshire. Hinton's travelling companion was one of his chief lieutenants, James Kendall, another Risley man. The business-like gent who lead them to a Ministry car, sent specially from Glasgow the day before, was Sir David Robertson, Member of Parliament for Caithness and Sutherland.
A politician to his fingertips, Sir David had tipped off a posse of reporters that a distinguished technologist was to come among them. The Press duly obliged, much to the annoyance of Christopher Hinton who had no time for speculative publicity. He evaded most of the questions, admitting only that he was in the Highlands to have a look at possible sites for atomic factories, before sending the reporters away disappointed, wondering what all the fuss had been about. Just Sir David Robertson courting front-page exposure for his mighty ego most of them probably thought. And they had much on which to base that opinion – Sir David was certainly not backward in coming forwards.
As they settled down to their chauffeured drive north to Sir David's constituency, the MP and the nuclear power broker resumed the line of conversation they had left off only a fortnight before, when they had met for the first time in the House of Commons at the MP's request. Sir David had heard that Hinton was looking for a site on which to build a new type of nuclear reactor, a technological leap forward that promised to revolutionise electricity generation. Never one to miss a profitable chance, David Robertson took the bold step of volunteering his constituency as the best possible place for Hinton's new atomic factory. Did Sir David have any idea of what was involved? Possibly not. He knew that his Parliamentary seat was not entirely secure, Caithness being traditionally a liberal stronghold, and he was anxious to bring off some high profile coup which would seal his credentials as a true Man of the People, and get him re-elected into the bargain. He took a letter from his briefcase and handed it to Sir Christopher.
The letter had been written five days before by James Robertson, County Clerk of Caithness. It conveyed the earnest hopes of a neglected electorate whose numbers were dwindling year-on-year, driven south by a shrinking local job market. Work brought wealth, which in turn brought prosperity. Without work there was nothing but a hard grind, proud people wearing their lives out in order to maintain that traditional dignity of which they were justifiably proud. The Clerk recommended that Sir Christopher consider three potential sites, all of them in the vicinity of Wick, a place with enough shops and civic amenities to meet the stipulated needs of the atomic workers. Having read the letter, Hinton returned it to the MP. His accompanying remarks astonished David Robertson.
The three sites were of no use. Unknown to Sir David, Caithness had already been visited by surveyors from the Ministry of Supply, who had also examined North Wales and Wester Ross. Sir Christopher had been impressed by David Robertson's tenacious advocacy of his own constituency, and he wanted to verify for himself his surveyor's unfavourable opinions. Beyond that he had no special agenda for the Far North. There was another thing he had neglected to tell the MP; as the new reactor's safety could not be absolutely guaranteed, there was a danger to the civil population which could only be reduced to acceptable levels by siting the reactor as far away as possible from population centres. Sir David admitted that he had never thought of this.
A little after 1 p.m. the official car pulled in to Wick, to be met by the County Architect, William Wilson, and David Oag, Editor of the John O'Groat Journal, a Caithness man whose local knowledge was second to none. Time was of the essence. Hinton and Kendal were busy men; they had to be back at their Risley desks by Tuesday morning. By 2 o'clock the inspection party were looking over land to the west of the main road between Reiss Links and Keiss. It did not take Hinton ten minutes to decide that this site was most unsuitable. What he ideally wanted was a 400-acre seaside plain, as flat as a pancake and with a solid rock foundation. A constant supply of 12 million daily gallons of fresh water must be at hand, together with a smallish town, not too far distant and provided with the ordinary conveniences of modern domestic life. Surely, the next site on David Robertson's itinerary was tailor made.
Outside Castletown a disused fighter aerodrome sat on acres of flat land, bedrocked by old red sandstone. There was a local harbour and an on-the-market manor house that would make a splendid hostel for all the atomic boffins. Fresh water? Sir Christopher ordered figures to be provided showing the potential water flows in the local catchment area. This was better news to David Robertson's ears, as was the amount of consumed by the examination of the Castletown site.
One place remained to be visited – Dounreay, a military airfield belonging to the Royal Navy and kept by them on a very meagre care and maintenance regime. Nevertheless, Dounreay was an important piece in the Ministry of Defence's strategic jigsaw.
Evening was drawing on by the time the MP and his party reached Dounreay, where their expected arrival was already long overdue. Sir Christopher, a man blessed with long legs and boundless energy, immediately set off across the airfield towards the sea, his weary companions struggling to keep pace with him. Like the upper crust salesman he was, Sir David Robertson did his level best to extol the virtues of Dounreay, underlining its match with Hinton's geological and physical requirements, and its nine mile proximity to the town of Thurso, a place with schools, hospitals, shops, a cinema and numerous sports facilities. Surely, this had to be the place for the new atomic factory. Sir Christopher committed himself to nothing. He merely shrugged his shoulders; "We'll see."
That evening David Robertson and his two visitors dined in Thurso, probably at the Royal Hotel, before going on to Brora where they spent the night. Next day, Whit Sunday, broke bright and calm, perfect for a day's serious sightseeing in east Sutherland. Their guides for the day were Walter Sutherland, County Road Surveyor, and his namesake Stuart, who was Managing Director of the Brora Coal Mine. First port of call was Loth, a site the County Surveyor thought Hinton would find more than acceptable. He was wrong. It was not flat enough. What else was on offer?
The next place was Loch Brora which, although well provided with fresh water, again was far from ideal. By now it was late morning; one more potential site to visit, a skelp of waste ground to the south of Golspie. At the mouth of the River Fleet, Hinton and Kendal apparently saw what they had been looking for. Little Ferry was flat; it was of large extent (some 600 acres); it had solid red sandstone founds; and all the land belonged to one owner, Sutherland Estates. There would be no tiresome haggling with small-time farmers over ground prices and grazing rights. Sir Christopher instructed Walter Sutherland to have bores taken so as to confirm the kind of foundation on which Little Ferry stood.
This positive step reinforced the optimistic feeling that had been growing in David Robertson's mind ever since he had heard the atomic men wax enthusiastic about Castletown and Dounreay. If those sites were nearly perfect, Little Ferry must be the Promised Land. Next morning the MP called on a Mr Thomas Adam of Golspie, Factor of the Sutherland Estates. His advice was simple: get in touch with Christopher Hinton – at once.
After Sunday lunch David Robertson bade his visitors farewell, and left to attend to his constituency business, of which he always had a fair share. The two Ministry of Supply men returned to Little Ferry to make a second inspection. Next day, which was a Bank Holiday, Hinton and Kendal travelled to Elgin where they were booked on a flight to Manchester. The weather was terrible – low cloud and rain, rain, rain. No planes left Elgin that day. Undeterred, the two men boarded the overnight train south, only to find there were no vacant sleeping berths and no catering facilities. All they had for sustenance was a bottle of whisky. When the train arrived in Crewe at 5.30 the following morning, two weary men with an empty whisky bottle climbed down onto the platform, hardly fit for work, but bound there all the same. More importantly, Christopher Hinton knew exactly where he wanted to build his fast breeder reactor. But would he get what he wanted, or must he settle for Little Ferry?
Christmas was but four days away. A cosy darkness settled on London, that great city on the banks of the Thames, besides which Big Ben stands, overlooking the mother of all parliaments. Alone in his office overlooking the river, a man sat, forlornly studying a sheaf of recent letters. The House had risen for its Christmas recess. Every Member of Parliament was eagerly looking forward to the traditional treats of the festive season. But not Sir David Robertson. He faced the prospect of returning to his far-off constituency as a laughing stock, a man with less knowledge than the humblest clerk in the local council chambers. Deep in his heart, Sir David knew that he himself was to blame, for was it not him who, in order to endorse his political credentials, had primed the Press to expect major announcements relating to the siting in Caithness of an exciting scientific project? Had he not, in anticipation of an official announcement, called New Year meetings in Wick and Thurso? And now the newspapers were telling the good folk throughout the North all those things which he himself should be revealing – if he only knew the real facts.
Worse, that morning's papers had reported on a letter sent to Provost John Sinclair of Thurso, by Wendy Wood, a Scottish Nationalist leader. This public-spirited lady had alerted the Provost in the forcefulest terms of the dire consequences of locating a breeder reactor at a site only nine miles from Thurso. Local folk were, understandably, alarmed by these apocalyptic prophesies. What could their MP do to allay their fears? Precious little, given that he still didn't know that the plant was definitely coming to Caithness. He was tired of asking the Minister of Supply, Douglas Sandys, to clarify the true position. But his every enquiry had been smilingly rebuffed. Six weeks had passed by since the news had first burst upon the public.
On Armistice Day, 11th November, a headline had appeared announcing "Atom Plant for Dounreay". The whole of Caithness was set a-blethering. At once all the confidential correspondence that had passed between the County Clerk's office and Sir Christopher Hinton suddenly became common knowledge. It was not James Robertson's fault – his discretion was beyond question. But official letters pass through many necessary hands; clerks, secretaries, typists, assistants. Everyone knew someone who was privy to the best unkept secret in the North, and now the newspapers had confirmed that everyone was right – as usual.
Let us return to that Whitsun weekend when Christopher Hinton had come to Caithness. Who can doubt that at Dounreay he had found the exact site he had been seeking for his experimental breeder reactor. Why, then, did he show such obvious interest in Little Ferry? To answer this we must indulge in some plausible speculation.
Sir Christopher had made his name at Windscale where he had been largely responsible for overseeing the construction of the great graphite piles in which enriched uranium was transmuted into plutonium for use in Britain's atomic bombs. Such a man must needs have access to high secrets connected with the defence of his country. There is nothing sinister about this; no reasonable person expects to gain freedom to every bit of information relating to national security. Some things are safer left to those who really need to know about them, and the rest of us can sleep easy with our ignorance. Even elected Members of Parliament.
The Admiralty was in charge of the Dounreay airfield, but the real masters were the Air Ministry. They ultimately had the say in what went on there. Christopher Hinton probably knew this, just as he would have swiftly divined the importance of Dounreay to a national defence strategy which, in those days, was based on the very real threat of nuclear war with Russia. Hinton set out his stall with Dounreay as the prize; but he was pleased to have Little Ferry up his sleeve – just in case.
The six months that followed Hinton's introduction to Dounreay were possibly the most crucial in the establishment's history. Speculations about this period will appear in the second of these articles.
The factual content of the above article was taken from the published reminiscences of Sir Christopher Hinton, and Sir David Robertson's official correspondence.
Steven Cashmore 1999


Information contained on this page may only be used for personal use,any request for full or part publication must be carried out through the Highland archive.
Send information for these archives to william@caithnessarchives.org.uk