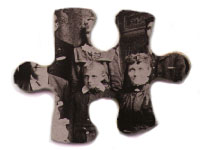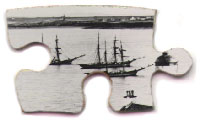 Highland Archives
SOMEWHERE IN GERMANY
By David Bews and Stephen Cashmore
Christmas Day started seasonally with an impromptu carol concert given by their hosts, drawn up in a circle outside the sleeping quarters. All the guests agreed that the frosty early morning air added a certain charm to the well-known songs, and gave everyone a hearty appetite for their coffee and toast breakfast. Lunch was fish and potatoes, meagre fare you may think, but it left plenty of space for the main meal of the day, a splendid Christmas dinner. Traditional roast followed hard on the heels of onion soup; there was bread pudding for sweet, the whole feast being swilled down with wine and bottled beer. And after the blowout came the entertainment - a hearty singsong with all the guests joining in, much to the delight of their hosts who clapped each and every song. A merry Christmas except that the location was Marlag in northern Germany and the year was 1940. Mine host was the German army, their guests a group of British Prisoners of War, among them Robert McBay of the Royal Naval Reserve.
When Robert McBay found himself adrift in an open boat on the cold waters of the North Atlantic, his first thought was probably that the game was well and truly up. Darkness was fast bearing down on a cold November afternoon, smothering the fog that masked the northern horizon. Whatever the eerie beauty of this scene it was lost on the lifeboat occupants, whose shattered minds were struggling to come to terms with what had recently passed over them. Their ship, the armed merchant cruiser Rawalpindi, had just sunk, blown in two bits during a 15-minute firefight with the German battlecruisers Scharnhorst and Gneisenau. Of her 256-man crew, only 38 were left alive.
Robert's present situation was a very far cry from his home at Welch Cottage in Johnshaven, a small Scottish town in Angus, not very far from Montrose, where Robert lived with his parents. An athletic young man, 27 year old Robert was no slouch with a football, a talent that had secured him the centre-forward role with local club Johnshaven Dauntless. But Robert's heart was elsewhere, for the McBay's had distant interests. They had the let of coble fishing for salmon at the mouth of the river Thurso and in neighbouring Dunnet Bay, far away in Caithness. Here Robert would go each year to tend the nets, and here he met Greta Angus of Castletown. The outbreak of war put a hold on their winter-time marriage plans, Robert, together with his brother David, also in the RNR, being called up for active service. Now it seemed things were going to come to a miserable conclusion.
But Robert's luck was in - a German rescue boat plucked him and 30 shipwrecked comrades from the ocean's maw, and set him ashore on the first step of a journey into captivity. A fortnight later his distressed parents, who had initially been informed that Robert was missing, were relieved to hear that their son was alive and well, British Prisoner of War number 54 at Marlag 'O', a POW camp located between Bremen and Hamburg. Here he was to remain for the duration of hostilities, a prisoner whose captivity was neither over-restrictive nor totally monotonous.
At Marlag Robert McBay found himself among friends and fellow countrymen, a steady stream of captured fighting men which swelled as the war entered into its second year. There was Donald Murray, a Glasgow man whose ship, the Armed Boarding Vessel HMS Vandyke, had been sunk off the Norwegian port of Narvik. From Stornaway came Norman McInnes, a fellow Rawalpindi survivor; while Marlag also played host to L.J. Slattery, an RAF pilot shot down on 4th September 1939, the very first British Prisoner of War. There were others, many of them former merchant seamen, members of the Royal Naval Reserve. Called to the colours at the outbreak of war, their fighting fire had been extinguished by the cold northern waves as their ships disappeared forever into the ocean's grave, mined, torpedoed or pulverised by the shells of some German warship. Now they faced captivity, an ongoing sentence, term unknown. At least they were still alive; many of their shipmates had paid the final reckoning.
It was not all Scotsmen of course. Englishmen shared billets with Welsh servicemen and their Celtic cousins from Scotland and the Emerald Isle. This nationality mix gave rise to organised rivalry in a series of camp football internationals played between teams from all four countries. As a talented footballer Robert McBay was not surprised to find himself a Scotland regular. He played inside forward in Scotland's 2-1 victory over Ireland, and again in the 1-1 draw with Wales. Then Scotland played the Auld Enemy and lost 3-2 in a five-goal thriller. An unfortunate result, but justice was done perhaps, for Scotland's left full-back was the oddly named McPostle, a renegade Sassenach who had added the Mc prefix to his surname. No doubt his fellow countrymen took pleasure in reminding 'Mc'Postle of where his true loyalties belonged.
As well as internationals the inmates staged an annual football knockout in which teams competed for the Marlag Cup. With their partisan supporters and combative play these games seem to have been mirror images of the back home cup contests. For instance, on a stormy May afternoon in 1944, Corinthians took the field against Tartars in the Marlag Cup Final. Robert McBay kicked off as inside-left for Tartars, but midway through the first half his captain moved him to centre forward. The second half started goal-less, with both sides striving might and main to make that all- important first breakthrough. It came after 15 minutes when, after beating two opposing defenders, McBay was hauled down in the area and Donnison stepped up to score from the penalty spot. Tartars were a goal up and Corinthian spirits drooped. Buoyed by their initial success Tartars seized the game by the throat and it was no surprise when McBay's left boot hammered home a second goal to put the Cup firmly in Tartar hands. As he presented the trophy, Captain Wilson remarked, prophetically, that the following year he hoped to see everybody playing on the green fields of Britain.
The guests at Marlag 'O' appear to have been a self-sufficient bunch, making their own food, drink and entertainment. Robert McBay worked as a baker and pastry cook, skilled at making both daily bread and special occasion pies. Prisoners would save up treats sent to them in the Red Cross parcels that arrived now and again from Britain, before sharing them with their comrades. For half a dozen captive Britons sitting round a rough and ready table, savouring their first cup of genuine English tea for many a month must have been a memorable experience. Another appears to have been the after shock of 'Marlag Special', a three-week fermentation of prunes and raisins. When want of food parcels put Marlag Special off the wine list, its place was taken by a humble brew of potato and yeast, that was apparently highly potent after a couple of weeks in the still.
The round of monthly plays, shows and pantomimes must have helped while away the captive hours at Marlag. The whole camp pitched in to get these shows on the road. As well as rehearsing lines, choreographing dance steps, painting scenery and making costumes, there were playbills and posters to produce. Talented amateur artists emerged from the prisoner ranks, drawing evocative caricatures to advertise each production. Among the monthly entertainments presented at Marlag were well-known pieces such as HMS Pinafore, Broadway, Treasure Island, Band Wagon and The Pirates of Penzance. There were many others, popular at the time, but now vanished into obscurity.
A captive life is necessarily routine and humdrum. People confined against their will for years on end tend to explore melancholy byways and become introspective. The past is brooded over; the future appears as an untouchable mirage, forever out of reach. In soil such as this poetry flourishes and Marlag appears to have been no exception to this rule. Many POW's there seem to have turned their minds to writing verses. The subject matter related to their homes, their loved ones, comrades in arms, the war. Always these poems were deeply personal.
Robert McBay committed some of his private thoughts to paper. He wrote about Caithness and the Pentland Firth, of Greta Angus and their future plans that had been put on hold by the war, of the daily round of captive life 'somewhere in Germany'. He wrote, too, of his present situation, his captivity in Germany among strangers, enemies whom he should have hated but didn't. To the end of his days Robert McBay bore the Germans no ill feelings, despite spending 5 years as their prisoner. His first-hand account of POW life runs counter to the popular image of barbed wire, sadistic guards, savage alsatians and bread-and-water rations.
In late 1944, as the war stormed in to its final act, air raids increased both in frequency and ferocity. This was total war, war waged against a whole nation, soldier and civilian. Every night great airborne armadas filled the skies above Germany, every night hundreds of tons of bombs rained down on its cities. Bremen and Hamburg were favourite targets for Allied bombers, especially Hamburg which endured the infamous 'fire-storm' raid when tens of thousands were incinerated in the course of one hellish night. In major strikes like these some off-target bombing was inevitable. Situated between two major targets, Marlag was perhaps fortunate that it received no more than a couple of unexpected visits from the Allied bomber fleet, with no attendant fatalities. These near misses were greeted with mixed feelings. Ironic anger at the thought of being killed by bombs of one's own countrymen mingled with growing relief - these bombs were heralds announcing the war's fast coming end.
Hostilities ceased and Robert McBay came home to marry Greta Angus and commence work with the Coastguard Service. He started out at Wick, moved on to Stornaway before ending his career at Aberdeen. In November 1976 he was awarded the MBE in recognition of his years of loyal service.
Sadly, Robert McBay is no longer with us. However, he left behind a priceless legacy of his time as a POW at Marlag. His collection of photographs, notebooks, poems, drawings and programmes for the shows and plays staged by the prisoners, remains with his family, and we are grateful to Robert's widow, Greta, and their son Angus, for allowing us access to this unique archive. Without their co-operation this article would not have been possible.
David Bews 1999
Steven Cashmore 1999


Information contained on this page may only be used for personal use,any request for full or part publication must be carried out through the Highland archive.
Send information for these archives to william@caithnessarchives.org.uk