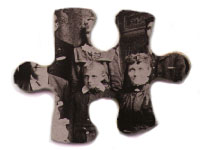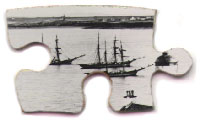 Highland Archives
ONE NIGHT STAND
By Stephen Cashmore
A rainy night in Thurso, a night for the fireside, as the old folk say. Still, good authority had it that there was a good band on the go. Locals? "No, they're from down the line. Dingwall, or somewhere round about." Well, it cost nothing to get in, so what was there to lose?
Some of us remember the Newmarket when it was The Stardust and Rock On Tommy advertised music in the local papers every week. A fair few musical ghosts linger in the dark corners of this newly smartened bar, ghosts mostly forgotten, no longer disturbing anyone's rock'n'roll dreams. Was this to be but another addition to that spectral band?
The bass, lead, keyboard and drum quartet needed no time to get into gear. By their third number, a turbo-charged version of I Hear You Knockin', the boys had truly set their stall in order. I Hear You Knockin' first heard the light of day in New Orleans some 45 years ago, when a funny little black guy named Smiley Lewis drawled it out over a rolling piano background; but the Newmarket model owed more to Dave Edmunds, whose 'seventies update sold a million and more.
So the band could rock, not least the pianist, who seemed to have the shadow of Jerry Lee Lewis cast over him as his fingers swooped up and down the 88 keys. What else could they do? Chicago blues in the shape of Jimmy Reed's Shame, Shame, Shame came along next. It has been said of Reed that he only knew one basic riff that he just recycled over and over again. Partly true, but that riff must be one of the most contagious ever laid down, and the boys gave us ample proof of that.
From Jimmy Reed's down home roots to the sophisticated soul of Bill Withers is one long boxcar ride, yet the we made the trip with ease. The Withers penned Ain't No Sunshine is a slab of sheer brilliance, a real soul classic that was treated with due respect.. It would be easy to make a hips up of Ain't No Sunshine. There is a remote association between a vocal and a rhythm line that must stay far apart, yet remain connected to one another by an elastic umbilical chord. Cut that cord, or make it too short, and the baby dies. This baby lived, thrived, wailed and cried, an outstanding sample of musical midwifery.
By now the place was heaving with Saturday nighters going the round of Thurso's bars. As one lot came in so another would leave, the ebb and flow of a vibrant tribe. A core crowd stayed the full distance, including one of the town's crop of up-and-coming young guitar players. His opinion ? "One of the best bands to play Thurso for many a day. You could pay out £20 and not hear such good music." And we heard it for free.
Later on we had Whatcha Gonna Do About It, Treat Her Right and Brown Eyed Girl, a justifiably popular choice given the song's local status. Then there was homage to that whitest of black bluesmen, the Man himself, Jimi Hendrix. But this homage to the great one was not just slavish copying. The band's version of Red House was all their own brew, powerful guitar blasts underpinned with improvised keyboard phrases. A long song, but never tedious. Along with everything else during this set, there was sufficient to keep you wanting.
Leaving prematurely, with the known-by-heart licks of Charles Edward Berry's Johnny B. Goode stinging the ears, the thought came that we had been witnessing the heirs to nearly four decades of rock'n'roll tradition. All through these years young white Britons have taken the voice of black underclass America, and translated it into a dialect understood from 'Groats down to Land's End and all stops in between, including Manchester. For Tony Auton and The Trauma didn't belong to Dingwall after all - they're Mancunians, and Saturday was their first time north of the Border. Lucky us who caught their one-night stand at the Newmarket. Let's hope they'll be back soon. If not, they're one outfit who won't be forgotten in a hurry.
Steven Cashmore 1999


Information contained on this page may only be used for personal use,any request for full or part publication must be carried out through the Highland archive.
Send information for these archives to william@caithnessarchives.org.uk