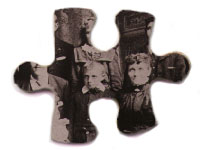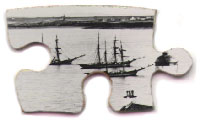 Caithness Archives
The Davidsons Of Caithness
Part Two - Oldhall To Dounreay
During the early part of the 19th century, the charge of Latheron parish was the especial gift of Lady Colquhoun of Luss, whose connection with Caithness was that she was by birth a Sinclair. Latheron was large parish covering 350 square miles, with a coastline of 30 miles and a population of 8,000. It paid a stipend of £400 per annum, together with Manse accommodation and Glebe land for the minister's use. In 1820, the charge becoming vacant, Lady Colquhoun looked around for a new minister; she found one in George Davidson, a member of a Caithness family who had been in Caithness since 1315. There was, however, a slight problem with George Davidson's appointment.
In those days many Latheron folk had the Gaelic. The parish's close proximity to the highland county of Sutherland ensured that a goodly proportion of its inhabitants spoke the old tongue, many of them as a first, or only, language. Every Sabbath the minister preached - in each of 4 parish churches - the same sermon twice; in English and in Gaelic, a language unknown to George Davidson. Accordingly, Lady Colquhoun arranged a Gaelic course for George - in Argyleshire. George returned to Latheron in 1822, a fully fledged Gaelic speaking minister, who soon settled into Caithness parish life.
In 1823 George Davidson married, Maria Serena from Dingwall, widow of a Naval Surgeon, and a Robertson by descent. Maria died four years later after giving birth to the couple's third child, and second girl. This child's predecessor, a boy, had been born on April 30th, 1826; he was baptised John Henry Davidson.
John Henry's early education was provided by Miss Cowan, a Thurso spinster who served as housekeeper and nursery governess to the Reverend Davidson. In 1832, when he was six years old, the boy was enrolled at Latheron Parish School where he was taught by the Reverend John Sinclair, afterwards minister at Bruan.
In October, 1840, 14 year old John Henry Davidson stood on the quayside at Wick, awaiting the arrival of the Aberdeen bound steamship Sovereign. It was a wild, windy autumn day, so much so that the Sovereign gave Wick a miss, forcing young John to take the Mail Coach south, via Inverness. He arrived in Aberdeen after a two day journey; next morning found him a pupil at the Grammar School, where he remained barely a term before going on to King's College, where he studied Greek, Latin, Chemistry and Mathematics, graduating M.A. in 1843.
The strictness of Victorian school life is proverbial. Discipline was harsh by today's standards, the cane being wielded with aplomb at the slightest excuse. But boys always would be boys. John Davidson's Greek master was a Doctor Macpherson, a scholarly man, prone to occasional lapses into absent mindedness. A favourite diversion of Dr. Macpherson's pupils was to throw peas at the master's bald head while his back was turned. Either through studied indifference or plain insensitivity, the teacher often ignored these irritations. One winter's morning, just before he arrived in the classroom, the boys placed a snowball on a beam above Dr. Macpherson's chair. The drips from this melting snow falling on his head at regular intervals, were mistaken by the master for the usual fusilade of peas, and it was not until much time and amusement had passed before he detected the cause of his discomfort.
Returning to Latheron John Davidson came home to changed days. That year, 1843, his father had wed for a second time. His new bride was Angelica Murray, daughter of a landed proprietor from Rosemount, near Tain. But 1843 was also the year of the Disruption, that great split in the established Church of Scotland which resulted in the departure of many its ministers into the fledgling Free Church. George Davidson was among those who joined the Free Church, the brave decision of a noble conscience.
During his 20 years at Latheron, George Davidson had laboured long and hard to improve the minister's lot. At the outset of his ministry he had found it necessary to travel over 20 miles every Sabbath in order that God's word be preached in each of his4 churches. With help from interested local parties, Sir John Sinclair foremost amongst them, George Davidson had divided his parish into 5 districts, each with its own local minister, elders and teachers. New churches were built, the last one, at Dunbeath, being almost complete when the Disruption came. The Reverend Davidson had spent a great deal of his own money in improving both his parish and Latheron glebe. Now he had to leave it all behind - manse, stipend, everything - and take up his abode in a humble cottage provided by a sympathetic landowner.
After the last load of furniture had been removed from the Latheron manse, George Davidson made a slow and deliberate visit to every room in the house that had for so long been his home, the stage of many happy days. He left it with a heavy heart, but with the conviction that the Lord's will had been done. He was not alone; the great majority of his elders and parishioners went with him into the Free Church.
Dispossessed minister he may have been, but George Davidson was not without friends and influence. In 1844 he succeeded in obtaining his son John the position of teacher to the 100 pupils of Latheron Parochial School. This job was of short duration, John securing work as a clerk at the Port of Wick, where his uncle Hugh Davidson was Collector of Customs. John also expanded his social skills by taking dancing lessons from Hugh Warden, a blind fiddler from Thurso, and his son, Alexander. In June 1849, the patronage of George Traill of Rattar enabled John Henry Davidson to go to the Isle of Man as a customs official with an annual salary of £80. In 1855 he was promoted to Controller of Customs at Westport in Ireland, where he remained until 1861 when the office of Controller was abolished. Prematurely pensioned off, John returned to Caithness, living with his retired uncle Hugh, at Oldhall, Watten, until 1864 when he married a cousin, Miss Swanson of Gerston. The newly weds took up residence at Buckles, a Davidson farm for over 4 centuries. Here were born their 10 children, 5 boys, 5 girls, one of whom did not live beyond infancy.
In 1876 John Davidson and family went back to Oldhall, where Mrs Davidson died on Christmas Day, 1889. The sons of this marriage all did well in life; one became a doctor at Coupar-Angus, John Henry took over Buckles, James John bought the West Watten estate and embarked on a military career as an officer with the Caithness Rifle Volunteers. The youngest boy, William, joined the Commercial Bank; the eldest, George, a trained agriculturalist, received Oldhall from his father in 1908; he was then 42 years of age, and had recently married a daughter of Donald Wares, Warrington House, Wick.
In 1916 John Henry Davidson celebrated his 90th birthday with the publication of a little pamphlet containing his reminiscences. He was the contented patriarch of a large and successful family, established and secure in home and career. William had been appointed manager of the Commercial Bank's Lochinver branch; James had just returned from the Western Front, having served as Colonel of the 5th Seaforth Highlanders from 1914; and George was looking after Oldhall and brother James's West Watten estate, his stature in Caithness agricultural circles growing greater all the time. George had a strapping six year old son named John Henry, after his grandfather, while he himself had just turned 50, a respected ornament of rural Caithness society. Two years later he was dead.
At the end of January 1918, George Davidson had attended the Bull Sale at Wick. The weather being cold, even for January, George went home to Oldhall with the beginnings of a chill, which fast developed into pneumonia. For several days he hovered between life and death as the crisis of his illness came and went, leaving him recovering but severely weakened. Recovery, however, proved to be a cruel mirage; George suffered a sudden sharp relapse which killed him. His burial in Thurso Cemetery was a well-attended affair, tributes from all the leading lights in the farming world accompanying him to his grave. Old John Davidson left Oldhall for Coupar-Angus, where he ended his days at the home of his son, Doctor Davidson. George's widow likewise quit Oldhall, taking her infant son off to Thurso where they lived at Ormlie Hall, a house now surrounded by homes built by the UKAEA, but in those days a suburban staging post on the road to Dunbar Hospital.
John Henry Davidson - better known as 'Jack' - was born in 1910. Schooled initially at Thurso's Miller Academy, he went on to Edinburgh University where he gained a B.Sc. in Agriculture, a most useful qualification for the son of an old established farming family.
During the late 1920s' Jack pursued many of the healthy pleasures and pastimes available to a young man of good family. Trout fishing in the Caithness lochs, shooting grouse on the '12th' with his uncle Jack of Buckles, playing university rugby, lavishing elbow grease on his first car, a Riley soft-top with wire-spoked wheels. There were parties, too, attended by fashionable young things from Thurso and around, who sat amongst the opulent furnishings of Ormlie Hall, sipping weak punch from crystal glasses. A young man's education being judged incomplete without foreign travel, Jack Davidson went east in 1929, cruising round the Mediterranean, stopping off at Egypt where he sampled the rough delights of local mule travel. The following year it was a cruise along the Norwegian coast, the days spent sailing or going ashore in a small rowing boat. But there were more serious things in life than games and holidays.
Farming was Jack Davidson's chief passion; another was soldiering. In 1930 he purchased the farm of Lower Dounreay from Pat Innes, one of a family of Innes's who had been there since 1918. He also enlisted as a private with the Reay Company of the 5th Battalion Seaforth Highlanders, one of many Highland Territorial units. A university degree qualifing him for a commission, Jack went off to Sandhurst, returning as a lieutenant. Soldier and farm owner: Jack Davidson filled both these responsible roles before his 21st birthday.
Lower Dounreay was a fine parcel of ground, but the house had not been occupied for over 60 years, and modern agricultural methods had passed the farm by. Not surprisingly money was needed for the improvements Jack planned for his new home. At his coming of age Jack appears to have inherited certain properties in Thurso for which he had no immediate use. Property was not perhaps such a good investment in the 1930s' as it is today, so Jack did what was sensible for someone with a farm to modernise; he sold up in Thurso and spent the proceeds on Lower Dounreay.
Within a few years Jack Davidson's farm house was the most up-to-date in Caithness. It had electricity, courtesy of a fine generating set purchased from Thurso's Dunbar Hospital; hot and cold running water and - rare luxury in those days - a heated towel rail. One thing Lower Dounreay lacked was a lady about the place. But Jack was working on that.
Millbank House in Janet Street is now the home of the Thurso Club. Fifty years ago it was the property of George Stewart, Land Officer with the Department of Agriculture, active elder of St Andrew's Church, president of the Thurso bowling club, a prominent figure in local society. The Stewarts had two daughters, Thea, who became a well-known Thurso schoolteacher, and Isobel.
In those days Millbank House was a comfortably furnished private residence, its rooms filled with well-stuffed sofas, painted japanese screens, delicate china tea-sets and Art Deco carpets. Isobel Stewart was a pretty girl, one of Thurso's most courted. She became Mrs Jack Davidson on December 10th, 1937, at Aberdeen's Palace Hotel, disappointing many would-be suitors, but delighting everyone else, none more so than the tenants and farm servants of Lower Dounreay, who made big plans to welcome their young laird's wife to her new home.
According to contemporary reports Jack and Isobel Davidson's nuptial supper was the greatest social gathering at Lower Dounreay for many a long year. Farm manager William Maclvor had mobilised the many farm servants, tenants and neighbours of Dounreay and Buldoo, detailing who was to do what; Mr and Mrs Alexander to convert the granary into a temporary ballroom; Mr Galleitch and Mr Wares to brush up their Master of Ceremony techniques; Mr Wilson of Thurso's Royal Hotel to organise food and refreshments.
When the newly weds arrived at Lower Dounreay they found the granary decked out with coloured tapestries and branches of evergreen. Above the door they saw the word 'Welcome', while at the far end of the granary, above a makeshift platform, hung a banner declaring 'Love Unites'. The Reay Band opened proceedings, everyone dancing to reels and marches before sitting down at table where a procession of loyal and patriotic toasts were drunk. Fed and watered, the assembly settled back to listen to an address given by Henry Henderson, tenant of the Davidson's, poet, postmaster, local councillor, a man best known as The Bard o' Reay. It was a lengthy speech, concluding with the universally held sentiment that for a landlord and employer, they could not wish for better than Jack Davidson. The Bard's address was answered in similar vein by another Caithness literary light, Donald Mackay, the Shebster postman, to whom we owe those invaluable records of past times in West Caithness, Memories of Our Parish, Idylls and Sketches, and This Was My Glen Then it was back to the dancing which, no doubt, continued long into the night.
Jack and Isobel Davidson now settled in to a busy life down on the farm. An intellegent, educated, couple from prosperous and respected families, held in high esteem by all who had dealings with them, the world indeed seemed to be their oyster. In 1938 their happiness appeared complete when Isobel gave birth to a baby girl, Elizabeth. But domestic happiness seldom exists in isolation. Events out in the wide world cast shadows into every corner, however remote. On September Ist, 1939, Lieutenant J.H. Davidson received orders to report to Golspie with the rest of the 5th Battalion Seaforth Highlanders. World War II had started.
Between their mobilization in 1939 and April 1942, the 5th Seaforths were stationed near to home in the North of Scotland. A move to Aldershot was but the brief prelude to more extensive travels, for on June 17th, the Seaforths took ship for Egypt to join in the fight against Erwin Pommel and his famous Afrika Corps. By now Jack Davidson had risen rapidly through the officer ranks, arriving in Egypt as Major in command of 'D' Company.
From October 1942 to April 1943 the 51st Highland Division, to which the 5th Seaforths belonged, took part in most of the major actions against the Germans in North Africa. A full account of their deeds can be found in Alastair Borthwick's book Battalion, and it is unnecessary to mention anything here other than that, on 6th April 1943, in the final battle of the North African campaign at Roumana Ridge in Tunisia, Major J.H. Davidson led 'D' company with 'skill and daring, dealing with many counter-attacks on Point 198, which he retained, although at one time his company was reduced to ten men.' For his heroism Jack Davidson was awarded the Distinguished Service Order. Most of his men thought their C.O.'s bravery deserved the Victoria Cross.
On Christmas Day 1942, following an improvised dinner of pork and turkey washed down \hrlth American whisky (a near-sacrilege for a Highlander), Jack Davidson made an entry in his diary, closing with the thought of where the following Christmas might find him. On 4th August 1943, at Angelico in the Sferro Hills, Sicily, Jack Davidson was mortally wounded by an 88mm artillery shell. He was 33 years old. His untimely death was much mourned throughout Caithness, especially at Lower Dounreay, where the Bard summed up everyone's feelings in a poem which ends with these lines:
'Nor walk in the green fields of Dounreay no more,
Our Hero, whose death we all sadly deplore.'
Understandably heartbroken by her beloved husband's premature end, Isobel Davidson lost some of her zest for life. All around her were reminders of her recent happiness, a happiness now so cruelly terminated. Caithness suddenly loosed its grip on her. She sold Lower Dounreay to Peter Gag, who also farmed Brims, and emigrated to South Africa where her sister Thea had previously gone as the wife of John George Baikie of Gillock. Elizabeth Davidson went with her mother to South Africa from where she has recently returned to Caithness. I am grateful to Elizabeth for the loan of her papers without which the above article could not have been written.
It is interesting, though a trifle pointless, to speculate on what might have been the outcome if Jack Davidson, returned safely from the war, had been laird of Lower Dounreay in 1953 when the Atomic Energy Authority first appeared on the scene.
Steven Cashmore 1998


Information contained on this page may only be used for personal use,any request for full or part publication must be carried out through the Highland archive.
Send information for these archives to william@caithnessarchives.org.uk