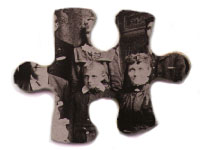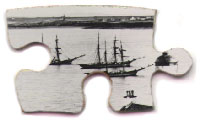 Highland Archives
THURSO 1875. By Stephen Cashmore
Professor Holloway's pills purified the blood, cured coughs, colds, sore throats, asthma, influenza and jaundice, energised the laziest digestive systems, and restored the appetites of persons seriously blighted by liver ailments. And should you be suffering from gout, rheumatics, boils, arthritis, skin ulcers or piles – the Professor had an ointment which would set all these complaints to rights. These wonderful panaceas, which could be had with printed instructions in Chinese, Persian and Armenian, were sold by reputable pharmacists throughout the civilised world. John Manson, Chemist and Druggist, stocked Professor Holloway's medicines at his shop in Thurso's Traill Street.
John Manson was a trading neighbour of Campbell and Co., silk mercers and cloth drapers, who sold hand-knitted Shetland goods, carpets and Brussels tapestries to the good townsfolk of Thurso. The shop also offered sheets and blankets, and iron beds to put them on, as well as upholstered furniture fit for the drawing rooms of the fine new villas, fast building around the outskirts of this northernmost town of 3600 souls.
Opposite the Traill Street shops stood the Aberdeen Town and County Bank, managed by Mr Robert Bruce and open for business from ten in the morning until three in the afternoon, every weekday. Next to the bank was the Royal Hotel. Although Thurso boasted five hotels, the Royal was the grandest and most cosmopolitan. From its doors horse-drawn buses went to meet every arrival at the new train station, returning with visitors attracted to the town by its growing reputation as a place where world-weary spirits could recapture their appetite for life. In those days of unshaken faith in bracing breezes, cold sea bathing and fresh air, Thurso was regarded as an ideal recuperation centre. There, on the shores of Britain's finest bay, invalids baked and wasted by the rigours of a tropical climate could mend their shattered health. Gazing out from a window of one of the new guest houses overlooking the Bay, shimmering in the midsummer twilight, a body soon forgot the oppressive, fever-haunted darkness of colonial India. Or so the publicity had it. It may well have been right – Thurso was then home to more than its fair ration of 80 and 90 year olds.
Once weekly the Royal sent its bus to Scabster to await the arrival of one of the North of Scotland and Orkney & Shetland Steam Navigation Company's new steamships from Aberdeen. St Magnus, St Nicholas, St Clair, Queen, were the names adorning these ocean greyhounds, driven through the northern seas by steam-powered paddlewheels. Over a thousand vessels a year dropped anchor in Scrabster Roads, among them emigrant ships carrying Europe's poor to new lives in America. When the wild wind blew hard from the west, ships filled with refugee Russians and Swedes would shelter in the lee of Holborn Head, their human cargoes looking out wonderingly across the bay to Thurso town.
At the river mouth a cluster of poor dwelling houses huddled around ancient St Peter's Kirk. Behind this venerable ruin stood the busy commercial district and the new Town Hall, built in 1872 at a cost of £2500, half of which had been donated in the will of Alexander Henderson, a wealthy banker. Within the Town Hall were a court-house, a public library and the Museum of the National Science Association, which included Robert Dick's collections of fossils, shells, butterflies and plants. Townsfolk were justifiably proud of these artefacts, the treasures accumulated by an adopted Thursonian who their parents had laughed at. They were likewise proud of the triple-arched bridge that spanned the river, the finest salmon stream in the north. From near and far gentleman anglers came, attracted by the promise of fishing a river on which no netting was allowed – Sir Tollemache Sinclair, owner of the Thurso River fishings, and his factor, George Logan, prohibited such unsporting tricks.
Two church spires pierced the Thurso horizon. The First Free Church was built in Olrig Street in 1871. Designed by Mackenzie of Aberdeen it was a spacious, comfortable place in which to worship. It should have been – it cost £5000 to build. Even more costly was the Neo-Gothic church at the top of Caithness Street. This imposing edifice with its 140 feet high clock tower, and its 2000 worshipper capacity, was reckoned by some the finest building north of Inverness. From its pulpit the Reverend J.S. Miller enlightened his flock on the finer points of living a Christian existence. They were an educated congregation. Thurso had five schools, including a Young Ladies' Boarding and Day School in Campbell Street, and an undenominational school for girls of the poorer class. This establishment, the Thurso Benevolent Institution, stood at the corner of Rose Street. Built in 1857, the offspring of a Ladies' mission school, it relied on voluntary contributions for its continuing upkeep.
Away from the town centre stretched a number of arrow-straight streets paved with local flagstone and lined by fine new houses, sure signs that Thurso was a place fast rising in the prosperity stakes. It was a patriotic town, too. In Olrig Street stood a castellated building. This was the new drill-hall, built in 1873 for use by the part-time soldiers of Thurso's Rifle and Artillery Volunteer Corps. Together these two companies boasted 300 men and two brass bands. They practised regular firing drills at the shooting ranges at Thurso East, on land owned by Sir Tollemache Sinclair. The baronet owned a little more than the shooting ranges; the second largest landlord in the county, Sir Tollemache had estates totalling 78,000 acres. Himself, the Duke of Portland and Mrs Sinclair of Freswick, between them owned half of Caithness.
In the surrounding parish lived an active rural population of over 2,000 people, the majority of them agriculturalists of one kind or another. Others worked on the estates, helping with the seasonal influx of visitors, up for the fishing or shooting. Twice yearly the farmers came to town; in July for the Petermas Fair, and a month later for the Marymas Market, which was held on the Friday after the Dunnet fair of the same name. A recent arrival in Caithness held the promise of wider markets for local farm produce – the railway had reached Thurso in 1874, bringing with it exiles home for a holiday, fashion goods, newspapers, bad habits and tourists. One Traill Street shopkeeper looked into her crystal ball and divined a business opportunity.
Tourism for the masses was a Victorian innovation made possible by cheap and fast rail travel. Railway-borne tourism spawned a host of dependent industries, one of which was guide books. Printed by big city firms on behalf of local publishers, these little books described the features of interest in places newly connected to the rail network. Did Thurso have things worth telling the world at large? It certainly did, and Miss Russell decided to make these things known to potential visitors to her town.
Miss Russell's shop sold books, newspapers, periodicals, stationery, and photographic views of Caithness by Alexander Johnston of Wick and Aberdeen's George Washington Wilson. On her shelves could be found Bibles, volumes of Scottish music, school-books and literature for Thurso's reading public which, in those pre-TV days formed a considerable part of the populace. This enterprising lady had also branched out into publishing, local author William Miller's Our Scandinavian Forefathers, a 52 page booklet, being her first offering. Published in 1862, it had gone to its second thousand by 1875 when Miss Russell contracted the famous Edinburgh firm of John Menzies & Co to print her Hand-Book to Thurso and Vicinity and Guide to the County of Caithness.
In common with its numerous brethren from all parts of Britain, the Hand-Book to Thurso and Vicinity is a small, slim volume of 100 pages. It contains a map of Caithness and a very fine view of Thurso from Oldfield, engraved by William Banks of Edinburgh. The book's contents are nothing extra special – a detailed description of Thurso; less extensive information on the rest of Caithness; a potted history of the County; biographies of a few notable Caithnessians. There is a section on geology and information on local sporting facilities, such as the croquet green in Janet Street, and "the knottie" played by generations of boys on Thurso beach. In 1875 the Hand-Book to Thurso and Vicinity cost one shilling. You may have to pay considerably more for a copy today.
Steven Cashmore 1999


Information contained on this page may only be used for personal use,any request for full or part publication must be carried out through the Highland archive.
Send information for these archives to william@caithnessarchives.org.uk