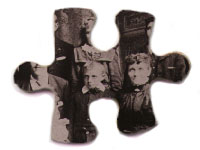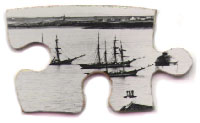 Highland Archives
Northlands Rock: Part Five - Fab Gear at The Rave-Up
In the late sixties Paddle Bell and The Corries played a few dates in Caithness. As a much-respected folk group they attracted a fair old crowd of young music fans, many of whom were out of tune with mainstream beat music. Folk had a role to play in Caithness musical affairs; but its time was not yet. The Corries were regular stars of a BBC TV series called Hoot'nanny. This had nothing to do with owls or female goats; the title was an unfortunate term imported from America where it had long since died of embarrassment. Remember Michael Row The Boat Ashore? Well, that was a Hoot'nanny kind of song, the sort of homely ditty beloved of middle-brow Americans who thought folk music was a jolly band of apple-cheeked urban hayseeds in chunky jumpers, harmonising about chain gangs, dust bowl depression and hard ramblin', all from the comfort of an upholstered rocking chair. In a land of blues and bluegrass, no wonder the whole of streetwise America was laughing up its sleeve.
The emergence of one of rock's great icons from this world of cosseted ignorance is a mystery of the modern age. Once Bob Dylan had purged himself of all the pseudo-folksy habits he'd picked up from Woody Guthrie & Co, and got himself out in front of an electric band, he swiftly blossomed into the universal rock hero he still is today. With his pretentious James Dean attitude, his cracked and weary voice and his cryptic songbook, Dylan was a phenomenon in waiting. When The Byrds hit gold everywhere with their endlessly wonderful version of his Mr Tambourine Man, Bob Dylan had arrived. In Caithness, however, well away from Highway 61, it was very much business as usual.
One week after the Yardbirds played Wick, twice as many punters packed the Assembly Rooms to welcome the Boys from Castle Blaney - The Maurice Lynch Showband was back in the Royal Burgh. A crowd of a thousand danced the conga, twisted and shook to chart hits, roared along the bawdy choruses of Seven Drunken Nights, and stood starryeyed with sentiment when Audie Heany sang My Prayer. A great night out, value for money, no-effort-necessary entertainment, unlike the previous week's act with their strange rhythms, their tortured, distorted guitar sounds. Thirty years down the road any self-respecting account of sixties music will mention The Yardbirds; abundant patience may be needed to discover references to Maurice Lynch & Co. A few months later, an unruly Glasgow crowd, frustrated by The Yardbirds progressive, undanceable sounds, inflicted multiple abrasions on the singer.
At weekend dances all over Caithness, in country halls, hotels and clubs, groups of local musicians played the wide variety of styles necessary to satisfy the ears of an allages audience. Scottish music, Nashville country, the latest pop tunes; this was the musical soup ladled out by The Debonaires, The Electrons, The Aces, The Five Dollars, Golspie's Knew Breed and The Dynamos, who were delighting dancers at Mey Hall in January 1966, at the start of a distinguished and still continuing career.
Meanwhile affairs continued as before in the main venues, the spacious acoustics of Thurso Town Hall and Wick's Assembly Rooms being filled with sounds from the south. There was Sounds Incorporated, managed by Brian Epstein, who was then trying in vain to keep a grip on The Beatles careers, an honest but woefully out-of-time man struggling to control adult brats; Pinkerton's Assorted Colours, big in America with their Mirror, Mirror; former Merseybeat star trading on past glory Wayne Fontana; St Louis Union, one of the loudest groups ever to shake the Assembly Rooms; and The Four Pennies, chart-toppers once with Juliette, three minutes of sugared nausea. However, their version of Leadbelly's blues classic Black Girl, proved that The Pennies had some essential beat credentials.
A worthwhile tradition, continued throughout the late sixties, was the annual week of fundraising undertaken by Aberdeen students on behalf of local charities. These harmless japes involved dressing up in outlandish costumes while playing in tiddlywinks contests, stottering about on sponsored pub crawls or pavement climbing. And dances. Old favourites up from the Granite City included The Jacobeats, The Facells, Royal Teens and Phase Two, who included Thurso's own Robbie Manson with his Futurama bass guitar. An art student at Gray's College, Robbie was later to feature as bassist in Aberdeen bands The Haze and The Rhubarb, both of whom played in Caithness the following year.
Soul music began to gain a hold throughout Britain in 1966. Caithness was not slow in catching on to the streamlined, chromium-plated pop soul coming out of the Motown hit factory in Detroit. Danceable, exciting, instant-access music, Motown sounds provided a safe haven amidst a rock landscape that was becoming increasingly more fragmented, as the big name groups cast off the shackles in which Tin Pan Alley had confined them all these years. Parting was not sweet, but painful. Acrimonious law suits soured the tempers of The Who, The Stones and others looking to control their own artistic destinies.
With Johnny Sutherland playing away in Edinburgh with The Memphis Soul Band, the mainstays of mainstream beat music in Caithness were Eileen and The Talismen, and Umeandus, a group formed after The Aktual Fakts split up the previous year. Dennis Thomson handled the vocals for Umeandus; he was backed by Sandy Macleod, Donnie Sinclair and, initially, Robbie Manson. Another notable beat-cum-pop music group of this time was The Jimmy Hamilton Four, who succeeded the Electrons as house band for the popular Saturday night dances at Thurso's Pentland Hotel. In their neat red jackets and black trousers, the band entertained with a blend of general chart favourites, mainstream country, jazz-flavoured R&B and - as could be expected from an outfit boasting ace guitarist lan Shearer - instrumentals. Sax player and vocalist Jimmy Hamilton had a penchant for Manfred Mann numbers, ideal material for a band that also included Dennis Manson on keyboards and drummer Willie Reid.
For those to whom music was an enjoyable Saturday night accessory things went on as normal. Off to the dances they tripped, geared up in whatever passed for fashion with the teenage generality, necked a few drinks, caught up on the latest 'what's new?', had a dance or two and went home well content until Mam called them down to a lunchtime Sunday breakfast. For these salt-of-the-earth souls, Caithness Dance Promotions put on Mod contests, Vital Statistics competitions and fashion shows where models from emporiums such as Thurso's Nova Boutique paraded in mini-skirts, hipster slacks and all the latest gear direct from London. Castletown boasted its own high fashion female jet-set. Not to be outdone, Reay did the same. Boys took their style from The Small Faces.
For the restless minority who must ever be one step ahead of the herd, the midsixties was a crisis time. The possibilities of beat music were exhausted, the Mod squad with their flowery jackets and loud check trousers sold by every cheap-john chainstore, very old hat. The Easybeats might be in the charts with Friday on my Mind, that perfect litany of teenage priorities, but for some there was more to life than a drink, a dance and a midnight grapple behind the local Co-op. Well, wasn't there?
One evening after Eileen and The Talismen had warmed up the Assembly Rooms crowd with a lively mixture of pop, soul and R&B, accepted protocol went clean through the window. Instead of waiting for the curtain to rise, the star act started playing without any introductions, and when the curtain did go up there they were, raging about the stage in a very animated fashion, guitars flailing, completely out of order. The audience's initial reaction to these antics was stunned silence, swiftly followed by baffled amusement. Noone had seen anything like The Fairies before. Still, they did play a superior brand of raucous, uptempo R&B, so things panned out alright in the end. In retrospect The Fairies were a forerunner of the Heavy Rock bands of the seventies, similar in style to fellow Londoners The Birds, whose 1965 record Leaving Here, driven by the piercing guitar work of Ronnie Wood, is a neglected rock classic, still-born before its time, the future on approval - but who heard it?
As 1966 wore on a new word entered the entertainment vocabulary when Thurso Town Hall was billed as the venue for a Great RAVE. Crazy beat would be supplied by Umeandus. Whatever went on at this Rave, could it have surpassed the appearance, two months later, of Judy Murphy; singer with The Drumbeats, an eight piece showband from Donegal? Known throughout Britain as The Playboys, this band always appeared as The Drumbeats in the North, due to the indelible bad name earned by another group of Playboys who had toured the Highlands a few years before. The Drumbeats were pretty good, the musical equals of Maurice Lynch, and in Judy Murphy they possessed glamour and singing talent in abundance. Judy's version of First Cut is The Deepest, the P.P. Arnold soul classic, is still remembered for its spine-freezing emotional intensity.
Major disappointment of 1966 may well have been the non-appearance of a charttopping group from New Zealand, of all places. Booked for the Assembly Rooms, Me And The Others were forced to cancel due to an accident. No matter, perhaps the return of Maurice Lynch's Showband, complete with new lead vocalist Gerry Black, was some small compensation. As usual, Maurice & Co attracted a packed house. Showbands were becoming the mainstay of a Caithness live music scene that had been noticeably deficient in big name visitors during 1966. No current top ten popsters had appeared in the county that year, and the local groups, good as they were, had failed to compensate for the loss. Terminal stagnation seemed a distinct possibility.
At the end of a year locally notable for the Government's decision to site the Prototype Fast Reactor in Caithness, thus assuring Dounreay's future, Tom Jones Green Green Grass of Home topped the Christmas hit parade. Behind Tom came those wellknown threats to teenage life as we knew it, The Seekers, with Morning Town Ride. Fortunately a young American blues dude named Jimi Hendrix was asking Are You Experienced?
'A backdated place without a teenage scene, where stone-age style winklepickers, tight jeans and long, greasy hair were still fashionable; a county whose musical tastes aspired no higher than Jim Reeves; no wonder self-respecting beat groups gave it the bum's rush.' Such were the opinions expressed in a letter published by The Caithness Courier in early 1967. The anonymous correspondent recommended the detonation of a hydrogen bomb to wipe out the musical lethargy blighting Caithness. Not surprisingly, this letter raised a few angry hackles. There were young peacocks in Caithness every bit as fashionable as those elsewhere, and pedestrian Country 'n' Western was popular only because of the lack of good local beat groups. And anyway, who the hell was this scribbler, deficient in the courage to sign their name to such insulting remarks?
In truth what was afflicting Caithness was a distant aftershock from the changes convulsing rock music in 1967. This was the year Mick Jagger and Keith Richards were sent down for drug offences, when Brian Epstein took his own life, soul star Otis Redding died in a plane crash, and Cliff Richard declared his intention to quit singing and teach religious instruction. It was also a year of musical divorce; The Supremes, Peter and Gordon and The Spencer Davis Group being among those with members going their separate ways. Rock music had grown from simple after school entertainment into a multi-million dollar industry, its leading lights had taken on the mantle of film stars, pampered and fawned over, their opinions were afforded prophetic status, their right to criticise the media moguls - whose creatures they were - apparently sacrosanct. The Monkees were the moguls revenge. But 1967 also spawned Sergeant Pepper, Jimi Hendrix, Procol Harum, Pink Floyd and, for better or worse, Radio One. In Caithness it www was the year when a number of new groups emerged to grace the local scene.
Jigsaw Puzzle materialised from the defunct Umeandus, Dennis Thomson, Sandy Macleod and Donnie Sinclair being joined by guitarist Billy Moore. Stage-clothed in turn of the century military tunics, Jigsaw Puzzle developed into a most accomplished group, playing a blend of pop, beat and mainstream soul. Alleged to have been the first Caithness group to have made Tamla Motown songs a regular performance habit, certain it is that Jigsaw Puzzle made a TV appearance in The Owl And The Pussycat, a short film shot in Caithness by Fergus Mather under the direction of Willie Wilson, a Thurso chiel, then studying film art in London. Willie was no stranger to the local music world, having been an occasional pianist with The Nomads and The Atom City Stompers, light years before.
Another local outfit seen on the small screen was the exotically named Opium Trail, recorded by the BBC at a Scapa House gig performing Sam and Dave's soul standard, Hold On I'm Coming, then a big favourite with Caithness teens. The Opium Trail included Detroit-born guitarist Ron Gershwin, Graham Walker, Roger Niven, Mike Sutherland and singer Spike Milligan, who was later replaced by 'Five One', otherwise Fred Wilson. Later travellers on The Opium Trail were Alastair Macleod and Duncan Gray. The Trail started out playing chart hits, R&B standards and a few dated but popular Shadows instrumentals.
Over on the eastern seaboard, after 15 months of regular playing at dances all over the county, The Five Dollars called it a day. The Dollars had featured such well-known local musicians as Sonny Flaws, Sandy Chisholm and Danny Cormack. Guitarist Donnie Macleod soon canvassed support for another group. Joined by Andy Sinclair, Michael Yellop, Richard Begg and 14 year old singer Malcolm Cook, this Wick group became The Casuals. Unlike most groups from the Wick side, The Casuals played no Country 'n' Western. This was a brave decision given the popularity of Jim Reeves, Hank Locklin, and other country songsters with older generation dance-goers.
The Up Set were another Wick outfit who appeared on the scene with the avowed intention of concentrating on commercial pop as performed by The Kinks, Small Faces, Sandy Shaw and similar hit paraders. The Up Set boasted two girl singers in Margaret Mackay and Marjory MacCaughey, backed by George Sutherland, David Cormack and Murdo Gunn. Did the girls sing the perennial favourite, Will You Still Love Me Tomorrow?
Around the same time as The Up Set started going the rounds, a band of Wick schoolboys flatly stated that The Suspense were going to play mainly Tamla Motown numbers. This antipathy to country music may have sprung from showband overkill, up to 6 of these visitors from the Emerald Isle once appearing over a two week period in mid-67. True, Maurice Lynch had become a local institution, guaranteed to sell a show out, but The Mexicans Showband .. . No doubt responding to this Irish-weary climate, one venue advertised a local group playing nothing but beat music without any blarney.
By now Eileen and The Talismen had become veterans of the Caithness musical establishment. Drummer Andy Munro having the previous year penned an award winning song called On The Midnight Prowl news came that the group were to record Andy's composition at Jimmy Johnstone's Wick studio. The recording was made, but never released, apparently due to doubts concerning its commercial potential.
Another innovation emanating from The Talismen stable was the founding of The Caithness School of Popular Music, which offered lessons in guitar and brass instruments courtesy of lan and Donnie Sinclair, and Will Murray. Still enduring a continuing dearth of quality musical visitors, young Caithness instrumentalists were due some encouragement.
Southern groups experienced mixed fortunes in Caithness during 1967. Lulu's exLuvvers returned with a fresh line-up to show Thurso just what was achievable with a Tamla Motown song. For four hours they spellbound an audience who voted The Luvvers the best visiting group since The Hollies. Unfortunately, less than 150 folk witnessed this artistic tour de force. In contrast, a series of gigs featuring groups from Manchester played to packed crowds, with 'hall full' notices posted. The King Pins, The Tony Merrick Scene, The Young Blood whose lead guitarist sought to emulate Jimi Hendrix on Hey Joe and Purple Haze, The Impact, The Hurt, all one-time stars of Manchester's beat clubs, all virtually forgotten today.
Top attractions who saw Inverness but came no further north included The Alan Price Set and Cat Stevens, hot, hot names in those days. Exasperated by this neglect a group of hopeful Thurso lasses circulated a petition requesting Jimi Hendrix to come to Caithness. Whether or not this praiseworthy venture got off th:e ground, rumour proved to be fact when Cream announced a 1967 summer tour of Scotland. Could they be persuaded to come to Caithness? They couldn't, but undaunted a posse of dedicated fans hired a bus to take them to Nairn where the supergroup were booked for a Saturday night gig at the Ballerina Ballroom. High hopes gave way to cruel disappointment when Cream's equipment failed to arrive on time, forcing the group to rearrange their show for Monday. On hearing of the Caithness contingent's misfortune, compensation was hurriedly arranged which resulted in the Far North fans getting to meet their heroes in person. Jack Bruce, Ginger Baker, Eric Clapton; three much treasured autographs to evokeee e memories of days when Cream really were the icing on the rock cake. On Monday evening another intrepid band of Caithness fans were in Nairn to see Cream perform Strange Brew, I'm So Glad, Spoonful, &c. They too enjoyed a tete-a-tete with the great ones, Clapton resplendent in an Aztec pattern cloak, purple velvet trousers and pink boots up to his knees.
In August both The Jigsaw Puzzle announced their imminent dissolution; likewise The Talismen, two of whom were off to university. Eileen had recently become a married woman with responsibilities other than fronting a beat group. Simultaneous with these melancholy developments, David 'Arctic' Sinclair, the electronics hand responsible for servicing the group's PA gear, hit the high road to Edinburgh. Had bad news no end?
To lighten this gloom, two bright new stars appeared on the horizon. On the ruins of The Talismen and Jigsaw Puzzle rose the exquisitely named Uncle Fester's Nighthouse of Andy Munro, Dick Levens, and Billy Moore with his E180 Gibson guitar. Managed by Ricky Erridge and Jim Marshall, the trio pooled their considerable pedigree to advantage on a slew of solid beat numbers, including Bo Diddley's Mona, and The Yardbirds For Your Love.
Then there was the equally inspirationally titled Zebidie's Morgue, a group of Thurso High School boys who had previously been The Younger Generation. The Morgue's original formation was singer Alisdair Wordie, Roger Niven on lead guitar, drummer David Alexander and Johnny Gray, a 14 year old bass guitarist who was writing blues inspired songs like Sittin' Around Baby and Feeble, Filthy Woman. When Roger went off to college, his place was filled by Robert Wilson. Armed with a repertoire drawn from the Stones, Kinks, Who and the Star soul songbook, Zebidie's Morgue debuted at Thurso Youth Club. A week later they played support band to excellent The Bo-Weevils, a group of Glasgow art students who drove up in a van painted with a psychedelic logo. These Bo-Weevils introduced something called 'Hippy' music to the Assembly Rooms. The Peace and Love-rock sound of Haight Ashbury had now become a worldwide craze thanks to Scott Mackenzie's smash hit, If You're Going to San Fransisco. Horrified by the fast-buck commercialisation of their dreams, the genuine believers in that city celebrated the death of Hippiedom.
Ever alert to musical trends, The Opium Trail were the first local outfit to feature Hippy numbers in their act. A fortnight later Second Chance breezed into town, fresh from Switzerland. Johnny Sutherland and Tommy Stewart had returned home. A few educational West Coast rock sessions, courtesy of a collection of Grateful Dead and Jefferson Airplane albums, at the pad a bona-fide American Hippy rented from Courier editor Bill Mowat in Thurso's Gerry Square, and Caithness would be fully turned on to psychedelia. Next week: In a State of Flux with Fingal McCool & Co., and the affair of Presley's torn jacket.
The above owes much to the willing disclosures of Dennis Manson, Johnny Sutherland, lan Sinclair, Willie Wilson and Alisdair Wordie.
NORTHLANDS ROCK. Part Six : 1968 - A Year In The Life
Around the time that Billy J. Kramer's roadcrew were packing their kit and preparing to quit Wick after their 1965 Assembly Rooms gig, half a world away Bruce Bartow arrived in San Francisco. He had hiked and hoboed across the United States from New England, to find himself in at the dawn of a radical new youth movement. Down in the city's Haight Ashbury district a bunch of serious young freaks were struggling to articulate a philosophy based on Love, Peace and the universal fellowship of humankind. Long hair, ethnic clothes, flowers, poetry, free'n'easy physical relationships and chemically affected states of consciousness; these were the motors powering this new utopia. On ground dug by a generation of Beat poets and novelists, and fertilised by maverick intellectuals like Timothy Leary, love-rock bands such as The Seeds and The Charlatans took root and bloomed. Heady days, this first flush of Hippiedom when all things seemed possible to minds made multi-dimensional by LSD. Just as Bruce, who was aaa a musical youth, surrendered to these new truths, reality barged in on his daydream.
The Viet Nam war was going full blast. Bruce Bartow's name appeared in the draft of young men eligible for military service. Napalm, Agent Orange and Gook shoots dovetailing not at all with Bruce's newly acquired doctrines of Love and Peace, he did the honourable thing and absconded from San Francisco. He was soon caught. Given the choice between jail and a uniform he opted for the US Navy. Shipped out to Vietnam to serve on a river patrol vessel he was hospitalised by an exploding mine. Health restored he requested a move to a more peaceful billet. The Navy's Radio Station at Forss, by Thurso fitted the bill just fine, and Bruce soon shacked up with the relaxed Caithness life-style.
Boxing Day 1967 and 500 ravers packed Thurso Town Hall for the county's first ever Beat Concert, a danceless music show featuring the cream of local groups. Talented trio Uncle Fester's Nighthouse were there; so too were Zebidie's Morgue, average age 15; and The Opium Trail, whose new vocalist Monica Rogers belted out organ-backed soul numbers like Gimme Little Sign. From Wick came Floral Decade, an all-girl band, newly formed. In addition to music there was a display of psychedelic posters from a competition won by Thurso's Angela Campbell.
Topping the bill were Edinburgh's only professional beat group, Just Us, whose lightnin' flash lead guitarist, old Thursonian Stefan Kocemba, demonstrated complete mastery of controlled feedback, a technique then very much in vogue. On bass was Werner Frolich, a guitarist Just Us had filched from Second Chance, the group Johnny Sutherland had brought with him from Switzerland. Despite the fact that the singer had 'flu and the rhythm guitarist was playing his instument with a violin bow, Just Us proved themselves a cut above the local groups, good as they were. Having just passed an EMI recording test, their bags packed with Stefan Kocember penned songs, Just Us were due to go off on a tour of Vietnam for the heady fee of E80 per day - each.
Cue ex-Vietnam hand Bruce Bartow. Given Bruce's musical abilities, his Haight Ashbury experience and his collection of West Coast love-rock albums, it was unsurprising that he and Johnny Sutherland should become firm aquaintances. And here they were, playing a set of acoustic blues and folk songs to a Town Hall crowd, who probably didn't realise they were listening to the product of only two days practise.
With good local groups, a genuine American musical Hippy come amongst them, and a sympathetic advocate in Bill Mowat, Caithness Courier editor and author of that paper's weekly Tim Hunt music column, Caithness beat music enthusiasts had good reason for optimism. When they heard that Johnny Sutherland was not only staying on in his native county, but was picking up lead guitar with Zebide's Morgue, their spirits soared. Meanwhile, out at Halkirk a beat group with no name started earnest rehearsals.
He'll have to go sang Jim Reeves. It was a sentiment shared by the leader of The Jimmy Hamilton Sound who was out of tune with a fair portion of what his group were playing every Saturday night. Jimmy Hamilton was a jazz enthusiast; he didn't care for country music or smaltzy pop ala Englebert Humperdink. He was not a lone dissenter. Jim Wilson preferred folk blues to the hot soul The Opium Trail were currently serving up in response to popular demand. These were the brass-driven dance number days of Gene Washington and The Ram Jam Band, whose disciples The Powerhouse with T.D. Backus, and Delroy Williams and The Sugar Band played Caithness in '68. Delroy Williams was the first black artist to appear in the Far North since Kenny Lynch five years earlier. A one hundred and ten percent showman, Delroy's band came complete with a pair of highly pneumatic Go-Go dancers who raised a few pulses. But not Jim Wilson's. He left The Opium Trail around the same time as Jimmy Hamilton parted company with his group.... . Minus their leader, The Jimmy Hamilton Sound became The Coasters. Jimmy Hamilton? He took Jim Wilson's place in The Opium Trail.
Wick, too, played musical chairs when teenbands The Suspense and The Autocrats disbanded, to reform as The City Crescent Five. Singer Neil Murray, Tommy Cass on lead guitar, Andy Mackay on organ, accordianist John Lowe and drummer David Brown embraced a something-for-everyone repertoire of beat, Scottish and country 'n' western. This was commercial common sense given the musical tastes of the paying customers they would be entertaining. But once again, the personal preferences of certain group members who did not want to play country or low grade pop music, led to an early exit for The City Crescent Five.
A group taking the opposite view was Zebidie's Morgue who, under the wing of Johnny Sutherland, extended their menu to include Indian-style rhythms such as Johnny's own composition, Wanda's Raga, and bottleneck blues like Elmore James's classic Dust My Blues. Another group whose future outlook involved backward glances were Wick's Casuals, who resurrected Buddy Holly's Oh Boy from the rock 'n' roll vaults. The Casuals also began featuring West Coast rock music in their act.
Earlier in the year, inspired by the success of the Boxing Day Beat Concert and egged on by the contagious enthusiasm of journalist Bill Mowat, Thurso Town Hall hosted a San Franciscan evening. About 50 fans turned out for this listen-in, where Bruce Bartow, Thurso's Hippy in residence, gave a lecture on love-rock illustrated with musical cameos from his own album collection. Eager young ears heard for the first time the music of The Grateful Dead, Moby Grape, The Doors, Country Joe and The Fish and, Bruce's favourites, Buffalo Springfield. No doubt the speaker gave an authoritive overview of the amoral philosophy underpinning the San Francisco Hippy scene; doubtless, too, he touched on the subject of narcotics, the use of which was openly advocated by many Californian groups. Whatever, the sound of Jim Morrison, Grace Slick and Janis Joplin must have seemed light years removed from the dated noises still being churned out by groups like The Jacobeats. Known as the Freddie & The Dreamers of the North, ttt the kilted Jacobeats had recently played Wick's Assembly Rooms with Zebidie's Morgue, whose up to the minute awareness made The Jacobeats look like yesterday's men.
Elsewhere on the main stage, major names were experiencing similar discords between those content to carry on in the tried and tested style, and the progressive minority restless to explore untrodden byways of music and other things. Tensions of this nature led to the break up of The Yardbirds, The Animals, the Mamas & The Papas, and Cream, and the departure of members from The Hollies, The Byrds and Pink Floyd. Internal relations within The Beatles were strained by George Harrison's obsession with things Indian, which saw him fingering a sitar as often as a guitar, then involved the rest of the group, plus partners, in a time-wasting visit to the Maharishi Mahesh Yogi, whose transcendental meditations had materialised for him a fleet of Rolls Royce cars. A while later, John Lennon dumped his wife for Yoke One, an artist of debatable talent.
Despite all this prima donna tom foolery, the record companies were inclined to indulge the antics of their wayward stars. After all, there was no such thing as totally profitless publicity, even when it involved major figures like Jimi Hendrix and Brian Jones being caught in possession of illegal substances. Only Motown came down heavy shoes, booting out David Ruffin for trying to change The Temptations musical direction.
For serious music fans, the progressive was the ascendent tendency. The opportunities of flirting with Third World rhythms, improvising lengthy instumental solos and pushing back the frontiers of creative guitar playing, were attractive indeed to intelligent young musicians who considered their abilities to have been too long undervalued by an unsympathetic, profit-obsessed music industry. The revelation that some well known names had not even played so much as one note on their chart hits, was seized upon as certain proof that rock needed to dance to a different tune. When it came, that tune was Bubblegum music - put your hands in the air if you remember Simon Says? - which was based not on sessionmen or up-front musicians, but on cartoon characters.
What the dedicated musical youth forgot is that as well as stars and music companies, there exists a third component vital to the rock bit - Joe public. When the singer with a group of musical incompetents called The Motion, appeared on the Assembly Rooms stage with his shirt undone to the waist, then proceeded to remove his shoes and socks while his colleagues murdered Robert Parker's Barefootin: the critical elite in the audience shook their hairy heads. The out-for-a-good-time majority laughed. To them such innane behaviour was simply hilarious. They had come to be entertained, not enlightened.
Likewise, progressives could not understand why golden greats The Searchers played nothing but their old hits when they came to a packed Assembly Rooms. Nor could they fathom why the crowd lapped it up. What did they expect? The Searchers were hardly The Mothers of Invention. But The Searchers are still touring, still pulling in punters happy to hear Needles and ~Pins and Don't Throw Your Love Away for the umpteenth plus time.
One evening at John O' Greats, 'Tich' Bremner, Billy MacPhee, David Henderson and Rocky Marshall made their musical debut alongside Zebidie's Morgue. The boys with no name from Halkirk were henceforth to be known as Fingal McCool. This new group's appearance was a timely one with Caithness audiences, who were getting a mite tired of seeing the same faces in the same places, playing the same songs. The faces, too, needed new places to play their songs. The Golden Road Show began packing its caravan.
Soul-crazy Dingwall had next to no knowledge of West Coast music. When Uncle Fester's Nighthouse, Zebidie's Morgue, together with Bruce Bartow, the divine Monica Rogers, a psychedelic light show, and grown in Caithness Go-Go girls hit town, normal life in the Ross-shire capital was suspended. The Golden Road Show, compered by Bill Mowat, socked it to them with a barrage of songs drawn from the armories of Cream, Jimi Hendrix, Moby Grape, The Mothers of Invention and Bob Dylan. Johnny Sutherland played some of his own eastern-influenced instrumentals; Monica sang Fever, particularly apt given that the song's composer, Little Willie John, had just died in the American penitentiary where he'd been banged up for manslaughter. Next day, following a night spent in their two transit vans, The Roadshow appeared at Embo by Dornoch, where girls screamed at singer Alisdair Wordie. Screaming was then passe in elevated circles; nevertheless, as events were to demonstrate, the Caithness lasses still had a few yells left in them.
Archetypal snarl band The Troggs had once been described as musically so far behind they were out in front. Now the authors of such subtle ditties as Wild Thing and Give It To Me were booked for the Assembly Rooms. The Troggs hits were past history, their current form unknown. A song entitled Love Is AII Around had hinted at an unsuspected gentleness, but when the Troggs got going in front of a disappointingly sparse Wick audience, no-one doubted that they were watching a bunch of loud, rural English roughs. I Can't Control Myself snarled Reg Presley; the girls couldn't either as they succeeded in tearing Reg's jacket in two. Not content with this trophy, a posse of hysterical females seized the Troggs lead guitarist and tried to pull him from the stage. Stewards dashed to his rescue, and an undignified tug-of-war began. To his credit, despite the real threat of being torn asunder, the guitarman kept right on playing until the stewards secured his person. Those who'd seen the psychedelic light were beee ewildered. Whatever possessed girls to scream themselves silly over these crude dinosaurs?
The week following The Troggs concert marked the final vacation time appearance of Gale Force Eight, a soul band with a powerful brass-based sound and a lively stage act. Formed when lan and Donnie Sinclair came home from university for the summer holidays, the other six members of Gale Force Eight were Roger Niven, Graham Walker, Duncan Gray, Jimmy Hamilton, Will Murray and Dennis Thomson. The availability of all these seasoned players was due to the break up of The Opium Trail and Uncle Fester's Nighthouse. Being Caithness, lifeboats awaited survivors of these musical shipwrecks.
This was a year when supergroups were being formed and disbanded throughout the rock world, Caithness not excepted. In May four young musicians walked into Jimmy Johnstone's Grampian recording studio in Wick, and laid down a few tracks including Fever, the Miracles old classic, Shop Around, and Cream's Sunshine of Your Love. These recordings never saw the light of day; however, those responsible had confidence enough to take the risk of turning professional. The group were assembled from what guitarist Johnny Sutherland considered to be the cream of local musical talent. He chose singer Monica Rogers, bass guitarist Dick Levens and drummer Andy Munro to join him in The Blend. The defection of two of its three members not unexpectedly led to the collapse of Uncle Fester's Nighthouse, whose lead guitarist, Billy Moore, filled the Zebidie's Morgue berth left vacant by Johnny Sutherland's departure.
The end years of the sixties were the heyday of those giant rock festivals at which tens of thousands sprawled among fields and public parks, scorched by the summer sun, saturated with rain or made miserable by mud. In stoned silence they listened to the megaloud sounds of star turns like Jimi Hendrix, The Who, Bob Dylan and Led Zeppelin, the group Jimmy Page had formed from the defunct Yardbirds. Music al fresco is a difficult thing to bring off, but with the aid of high wattage PA systems, a common bond of shared ideals, and a willingness to ignore such inconveniences as 'do it on the spot' sanitation and pestersome drug pedlars these early festivals did not so bad. They had atmosphere; they were where it was at - and if you weren't there, then you were nowhere.
Thurso was not Monterey or Hyde Park, but it too hosted a festival. In June the stars of The Golden Road Show were joined by Orcadians, The Glass Opera, and Glasgow's Bo-Weevils, who delivered solid versions of Eight Miles High and Moby Grape's Hey, Grandma. But good groups and Go-Go girls failed to fill a rain-lashed tent on Viewfirth Green, with poor acoustics and all the atmosphere of a vacuum. Thurso's Festival was a forgettable affair, not one half as good as the original Golden Road Show tour.
Midsummer came and went and The Blend played at Thurso Scout Hall. It was the group's last local show before going on tour in Germany. Prior to their departure The Blend joined their Caithness musical cousins at Wick's Grampian studios, where a recording session had been arranged and part financed by Fingal McCool's manager, Jim Marshall. State of Flux was an apt description of the constant interchange of members between Caithness rock groups in 1968; it was also the chosen title of a 7 inch mini-album.
Packaged in a sleeve designed by Angela Campbell, State of Flux contained six songs, four of which sprang from the musical imaginations of the local groups who played them. David Henderson wrote Fingal McCool's You Just Gotta Try, while fellow McCoolman Rocky Marshall took the credit for the group's Looking Through Hell's Windows. As well as playing rhythm guitar with Zebidie's Morgue on their version of Dust My Blues, Johnny Sutherland also wrote Nothing, the Morgue's other State of Flux track. Reformed especially for the session, Uncle Fester's Nighthouse recorded Andy Munro's song Ice Cold Woman Blues, while The Blend's parting shot to Caithness was a version of a number they'd previously laid down at Grampian, The Miracles Shop Around. State of Flux is a musical memento of 1968, a passport into those now long gone days, when a vigorous Youth movement thought it was at last about to open the cold, grey eyes of the staid adult world. Didn't Tony Blair once play in a band?
Discotheque injected a little psychedelic light into a Caithness scene overcast by the break up or departure of some its best rock bands, and the failure of those remaining to secure a decent number of bookings. Blame for this last complaint was directed at the alleged monopolistic policy of promoting second rate groups from beyond the Ord over known local talent. Whatever the truth of these accusations, the whole world of rock was suffering from too many signposts pointing nowhere, combined with a surfeit of ideas comprehensible to none but the brains that hatched them. In a changing art form like rock music, today's tastiest cakes are often tomorrow's stale birdfood.
Products of urban cool, discotheques grew up in sepulchral clubs, never penetrated by live music, where zombie-like clubbers, their eyes kept open by amphetemine props, danced the night away to obscure soul records. The first Caithness discotheque seems to have been the one opened in April 1967 at Wick's Bridge Street Youth Club, in a subterranean musical dungeon with rough stone walls, dimly illuminated by subdued lighting. Thurso Council having thrown out an application to convert a disused barn at Ormlie farm into a disco, it was left for Viewfirth to supply the deficiency. The Club's first disco evening was a poor excuse, lacking atmosphere, a reincarnation of an old youth club record hop with its tabletop Dansette record player. Enter 'Professor' David Humphries and his lightshow. In the twinkle of a psychedelic kalidoscope everything changed; disco night at Viewfirth became a must for happening people.
As the year wore itself out, Zebidie's Morgue disbanded, its members disheartened by their lack of local dates. What was the point of practising for events that might never materialise? In November, a month after the Morgue called it a day, the prodigal son returned to Caithness. Johnny Sutherland and company were back from the Continent. Pathologically unable to remain musically inactive, Johnny lost no time in picking drummer Graham Walker and bassist Johnny Gray, and bottling The Jam, a rock 'n' roll conserve flavoured with a blend of Vanilla Fudge, The Nice, and assorted Californian bands.
Suddenly, live music in Caithness leapt back from the brink of apathy. Following The Jam's debut at Thurso Scout Hall, a crowd of 600 filed through the Assembly Room's doors to hear Glasgow visitors The Riot Squad, supported by Golspie group Yesterday's Mood and The Jam, in a late night marathon staged by Caithness Dance Promotions. There were Go-Go girls, and Prof. Humphries' light show, with added smoke effects. Nothing was spared in this attempt to recreate the atmosphere of San Francisco's Fillmore Auditorium.
With December came rumours that the BBC were contemplating a film featuring the groups who'd recorded State of Flux. Things were clearly on the up. Boxing Day witnessed a repeat of the previous year's Beat Group Concert, with The Probe from Inverness headlining local bands Fingal McCool and The Blend. With the Sinclair brothers on parole from university, Gale Force Eight blew once again through Thurso Town Hall; and Uncle Fester's Nighthouse was rebuilt for this one show. Very much a case of Deja Vu, a feeling hope has been conveyed to readers by this series of articles, of which this is the final one for the time being.
The above owes much to the musical memories of Johnny Sutherland, lan Sinclair and Alisdair Wordie, not forgetting Tim Hunt's Caithness Courier music column.
Steven Cashmore 1998


Information contained on this page may only be used for personal use,any request for full or part publication must be carried out through the Highland archive.
Send information for these archives to william@caithnessarchives.org.uk