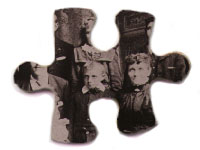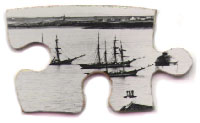 Highland Archives
Northlands Rock: Part Four-The Beat Goes On
Way back in 1964 the weekend starts 'Here' was the boast of 'Ready, Steady, Go!', a Friday evening televised dish-up of everything 'in' and 'with it' among teenage society. Music, clothes, hairstyles, dances, if it was shown on 'RSG' it had the official fashion stamp of approval, right? Wrong. Good as it was, 'Ready, Steady, Go' provides unimpeachable visual evidence that what the media of those days regarded as fashion was some months removed from what was really the case in clubs, in dance-halls and on street corners throughout Britain. One example tells the whole story.
As the camera focuses on the parts in question, Keith Fordyce, an 'RSG' host, announces that the current fashion is still for hair worn long and over the collar, jackets without lapels, tight trousers and cuban-heeled boots. Then the Beatles start into / Feel Fine while all around them a crowd of young Mods slink-dance about, lost in their own egos, oblivious to the super-group performing in their midst. In levi jeans, sneakers, cycling shirts, their hair neatly dressed in the French crew-cut style, these Mods appear to be scornfully indifferent to Keith Fordyce and his peurile clowning with John Lennon. But then neither Fordyce or the Beetles cut any cloth with the 'in crowd' of late 1964.
Marc Bolan was a Mod in the very early days of that movement, when a small group of North London boys, disenchanted with the fashion dishes of the day, discovered the smart casual clothes style affected by certain members of the capital's gay community. Johnny Sutherland was a Mod, too; but he stayed in Thurso, a place as far away from Carnaby Street as it was possible to get. In those days Caithness kids kept apace of current trends through the pages of such weeklies as Melody Maker and Record Mirror, which reported the doings of beat groups, displayed their photos and carried adverts for mail order firms specialising in the latest style clothes Serious dandies were only as far behind London as the time it took to read a newspaper and post a parcel. However, Johnny had a more abiding passion than clothes - music.
In 1956 young Johnny Sutherland heard Pat Boone's cover version of Little Richard's Tutti Frutti and became hooked on rock 'n' roll. Over the fence from Johnny's house in The Glebe, was Jackie Murray's garden shed where The Burnsiders were wont to practice. In this shed Stanley Macintosh (acoustic guitar), his sister, Beatrice (tea-chest bass), Sanders Robertson (washboard) and Jackie himself practised their hands on the latest skiffle tunes. The sounds made by The Burnsiders and The Teenagers, their fellow skifflers from the other end of the Glebe, inspired Johnny Sutherland to learn how to play. A Stroma fisherman, lain Simson, taught him the rudimentary guitar chords, and pretty soon he was a double-bass player in school dance bands.
Come 1962 Johnny was plucking string bass with The Atomaires, most of whose members belonged to Spittal, including Willie, George and Peter Sutherland, and Charlie Elder. The Atomaire's accordianist was Sandy Macleod, whom Johnny was later to team up with in The Federals. Two years prior to his stint with The Atomaires, Johnny had made his vocal debut with The Nomads singing Be Bop A Lula at a dance in Thurso's Guide Hut. In these pre-disco days there were plenty of stages on which apprentice musicians could hone their skills; Scout huts, Boys Brigade halls, church youth clubs, all places where teenage dances were held, week-in, week-out. By February 1963 Johnny felt himself competent enough to form his own group.
The Federals lined up as Johnny Sutherland (lead guitar), Stefan Kocemba (rhythm guitar), Sandy Macleod (accordian), Donnie Sinclair (drums) and singer Eileen Campbell. With their continually expanding repertoire of chart hits, Shadows instrumentals and Merseybeat, the Federals soon became one of the best-known local groups, regulars at Thurso Town Hall and at Wick's Assembly Rooms, both as support for visiting acts and as headliners in their own right. Early in 1964 Tommy Stewart came in for Donnie Sinclair, who joined fellow Caithness group The Talismen. Stefan Kosemba flitted to Edinburgh. His replacement was Sonny Flaws, a Shetlander, serving an apprenticeship at Dounreay. Partly as a result of Sonny's persistence, The Federals took a trip to Shetland, becoming the first rock group to play those islands. Daundering around Lerwick, the group were curious to see what appeared to be the entire population out on the streets, staring at television sets in shop windows. Surely the advent of The Federals didn't warrant that much attention, did it? The fact was, the day the Caithness musicmakers chose to arrive in Shetland was the same day that TV made its initial appearance there.
Later on in the year, with the departure of Eileen Campbell to The Talismen, The Federals became The Aktual Fakts, with Johnny Sutherland on lead, drummer Donnie Sinclair, Robbie Manson on bass guitar and vocalist Dennis Thomson. With Dennis a Beatles devotee and Johnny favouring The Rolling Stones, it was clear that The Fakts would make an ideal support act for the growing number of beat groups being booked into Caithness.
Beatlemania was at its screaming peak in 1964. The new year found the group's L.P. With The Beatles in the Top Ten, an almost unimaginable feat given the relatively high price of albums in those days. With The Beatles presented the group in a softer light than the red glow that had lit up the gang of leather-jacketed hombres, who rocked the seedy Hamburg clubs a couple of years before. When Paul McCartney crooned Yesterday and mothers smiled 'Ahh, how nice', teenagers with rebel pretentions looked about for a band with more delinquent credentials. The Rolling Stones were an obvious choice.
While The Beatles drew their early inspiration from hard-edged rockers like Little Richard and Carl Perkins, seasoned with early Tamla Motown material by The Miracles, Marvelettes, &c, Mick Jagger and Co utilised the obscurer sources of Chicago Blues and Southern Soul. Lumped together under the heading 'Rhythm & Blues', the black music The Stones were picking up on was common currency among college kids and art students, graduates of that same school of junior intellectuals who had preferred trad jazz to rock 'n' roll in the '50s. In Caithness the real thing was on the doorstep. In January 1964 the U.S. Navy opened a radio station at Forss, and by spring The Saints, a group from the Base, featuring Jim Labor on sax, became active in the local music scene.
Caithness played host to neither The Beatles or The Rolling Stones; nevertheless it saw plenty of imitators from near and far. Down in Elgin Albert Boncini promoted and managed a string of beat groups from Moray and Aberdeenshire. Boncini was a handy port of call for Caithness voluntary organisations, who saw rock concerts as a sure-fire way of raising funds. And so groups from the Boncini stable began to make regular appearances at Wick's Assembly Rooms, Thurso Town Hall, Britannia Hall, Dunnet and Castletown's Drill Hall. The Royal Teens, The Strollers, Tommy Dene and The Tremors, The Facells and Johnny and The Copycats were among the north-easters who blew into Caithness in 1964. Ultimately there were The Jacobeats, who rocked the rhythm decked out in full Highland dress. Many of these groups had come up through the skiffle school via rock 'n' roll to Merseybeat and R&B, and several of them had paid their dues on that hard road which led to the rowdy beer cellars of Hamburg. For a full account of their adventures Peter Innes' book Fit Like, New York? is highly recommended.
One Aberdeen outfit who came to play in support of Caithness Student's Charities Campaign were The Misfits, whose drummer Dave Lunney was an ex-Thurso teenager and former member of The Atom City Stompers and The Nomads. Dave was a familiar face, but there were others, known from records or fleeting TV and radio appearances on Saturday Club or Thank Your Lucky Stars.
Visiting groups to Caithness in 1964, who have left us 45 rpm plastic proof of their abilities, included recording artists The Applejacks, Linda Lane and The Sinners and The Wild Ones, whose appearance in Thurso Town Hall clashed with a Viewfirth dance where the organisers posed the question; 'Do you suffer an incredible urge to let loose and shake away all your frustrations?' Was Dounreay really that bad? Anyway, those in need of a good shake could get it courtesy of the Dominoes Rock Unit.
Patrons of an Assembly Rooms event in April 1964 were disappointed to learn that Miss Marie Lawrie was unable to appear due to health reasons, but her group together with The Jacobeats and The Federals were sure to give full value for money. So Lulu never made it, but her Luvvers did. Never mind, The Jacobeats and The Federals probably compensated for that. One well remembered group who did make it to Caithness on three occasions in 1964, were Malcolm Clarke and The Cresters from Leeds, who had recorded a harmonica-based wailer called / Just Don't Understand. In Richard Harding The Cresters had one of the finest guitarists yet seen in Caithness. Johnny Sutherland thought his E100 Burns Vistasonic was a class machine, but it paled beside Harding's Gretsch White Falcon, a piece of hardware retailing at £700, or eighteen months wages for the average teenager.
Solid support for all these imports came from a quartet of Caithness groups; The Falcons, The Federals (later to form the nucleus of The Aktual Fakts), The Electrons and The Talismen. Partly salvaged from the wreckage of Wick BE Hall stalwarts The Delawares, The Falcons were Adam Poison on drums, sax player Johnny Poison, Willie Burns, who sang and strummed rhythm guitar, while on lead guitar was lan Shearer, who had arrived in Caithness from Aberdeen in the '50s as the finished article. A fully trained player who could read music, lan Shearer was the inspiration for a legion of young Caithness guitarists, one of whom, Wick's Stevie Bremner, came out on top of the pile. Stevie cut his teeth with Johnny Curran's Rhythm Four prior to joining The Electrons as lead guitarist. The rest of the group were Dennis Manson on organ, drummer Sandy Chisholm and pianist Davie Wares. Vocals and acoustic guitar were handled by Nancy Robertson. When Stevie Bremner went off to Skye (where he is still playing) in mid '64, The Electrons conscripted lan Shearer from The Falcons, who appear to have disbanded at this juncture. Born out of the Nomads, The Talismen were lan Sinclair on lead guitar, his brother Don and American
Tom McLave, saxes; Davie Calder on rhythm guitar; Fred Wilson or Dick Levins, bass, Andy Munro ( famous later as Mr Boom) on drums, and singer Eileen Campbell. All these local groups played a mix of current pop favourite and beat, varied with dollops of Shadows-inspired instrumentals and, in some instances, country tunes. Eileen and Nancy Robertson sang numbers made famous by Brenda Lee, Millie, Dusty Springfield and other hit parade girls. In June 1964, shortly after the Electrons packed out the opening night of Thurso's Pentland Hotel ballroom, Nancy issued a record made at Jimmy Johnstone's Wick studios using local session musicians. Released on the Grampian label, Wedding Bells paired with the old Hank Williams classic You Win Again, turned out to be an instant best seller in Caithness, topping the Music Shop's chart throughout July.
Tuesday, 7th July, 1964 was notable for what was probably the biggest rock concert ever staged in the Assembly Rooms. The Hollies were one of Britain's premier beat groups, consistent hit-makers, their name seldom out of the charts, and here they were in Wick along with Johnny and The Copycats and The Federals. Wick Judo Club organised this memorable event, and a fine job they made of it, too. Anxious to avoid the scenes which marred the Hollies Inverness show, where screaming fans invaded the stage forcing the lowering of a steel safety curtain, Judo Club members met with police and civic officials to cc-ordinate a safety strategy. Extra police were drafted in to Wick to deal with increased traffic and control crowds coming from all over Caithness; and an adequate number of stewards were enlisted to keep order in the Assembly Rooms.
The great day began ominously. Graham Nash discovered that on the Hollies journey north, his guitar had received a bash fracturing a machine head. A spare being unavailable, it was fortunate that local musical instrument doctor Jack Shearer was at hand to supply the deficiency, and customers in Wick's Music Shop were delighted when The Hollies strolled in. Did the group sign copies of their latest single Here I Go Again! You tell me.
The Assembly Rooms was packed to its limit and beyond. The Hollies played all their hits, but no-one can remember whether they were any good or not; the screaming made any attempt at critical appraisal impossible. Hysteria in the presence of beat groups was then an epidemic; but generally it was ail harmless, the most serious damage being selfinflicted sore throats or panda eyes. One young lady did manage to clamber onto the stage from which she was rudely ejected by a brawny steward, giving her something tangible to shreik about. However, apart from this isolated incident, The Hollies concert passed off trouble-free. The final big name concert of the year also went without a hitch, mainly due to a less than staggering turn out. Birmingham's Applejacks were a group on their way down the popularity ladder, their one major hit Tell Me When being something of a memory when they played the Assembly Rooms in December.
The New Year began with The Beatles I Feel Fine firmly on top of the charts. Beat music it seemed was conquering the world. Fresh from a stint in beat-daft Germany came Elgin's Eddie Le Pard and His Leopards to play Thurso Town Hall, while forthcoming attractions announced that two major groups, The Merseybeats and Wayne Fontana and The Mindbenders, who had both been on the crest of the first breaking beat group wave, with chart successes and a loyal following in the scream stakes, were booked for the Assembly Rooms. Meanwhile, news came to Caithness that one of its sons, John Stevens of Wick, was touring Germany as rhythm guitarist with Eagle Force 7, a group formed from soldiers of The Royal Scots Greys. Even the Army had surrendered to the beat.
Once upon a time connoisseurs of US music looked forward to Friday night. This was when Radio Luxembourg presented American Chart Busters, a programme featuring the best from the US charts. On this show a listener could catch up on the latest soul, surf, girl group and perfect pop confections from the other side of the Atlantic. Then, overnight almost, the programme changed. The American charts were overrun with British beat bands. The Beatles, Stones, Dave Clark Five and Herman's Hermits led the charge, as the sanctuary was invaded by long-haired barbarians from the Old World. Songs that were nowhere when recorded by black Americans shot to the top when sung with an English accent. Any US artist who was not endorsed as an influence by a British group could start looking for an alternative career, or so it seemed.
In Caithness things went ahead in 1965 much as they had the previous year. Local groups The Talismen, The Electrons and The Aktual Fakts continued to provide support for musical tourists from beyond the Ord, as well as playing the bread and butter round of youth club gigs and licensed dances. A broader range of influences were now taken on board by these local outfits. Country, Scottish folk tunes, Blues; these various strands wove themselves into the general musical plaid. The Viewfirth Sounds Orchestra appeared, an occasional alliance of musicians, with Johnny Sutherland on lead guitar, sax men Jim Labor and Jimmy Hamilton, Sonny Flaws playing bass, Sandy Chisholm on drums, and trumpeter Danny Doohan. The VSO blended dance music, jazz and blues. Sometimes Ska,the forerunner of reggae, was heard at Caithness dances. The collection of obscure L.P's owned by Thurso record addict Alan Leslie was a sometimes source of the more esoteric material played by local boys; conversations with members of visiting groups also proved musically fruitful.
In April 1965 The Rockin' Berries, makers of the classic He's In Town, came to Wick - minus their equipment, which had been delayed on the road. Fortunately, The Aktual Fakts were on hand to provide a loan of their gear. Other notable visitors to the county that year were The Boston Dexters, The Beatmen, Manchester's Mighty Avengers, former Tornado (remember Telstar?) Heinz with The Wild Ones, and Billy J. Kramer. Major departures were the brothers Bill and Dave Fehilly, the men behind Glasgow Dance Promotions. Bill went on to more musical success with the rock band Nazareth; he was also instrumental in persuading Alex Harvey to come out of retirement. The Fehilly name crops up whenever the Caithness music scene is mentioned. A mint they may well have made from the county, but no-one grudges them their just rewards for placing Caithness firmly on the rock 'n' roll touring trail.
Eric Clapton, Jeff Beck, Jimmy Page were three acclaimed guitarists who cut their teeth with The Yardbirds, one of the most influential and innovative British groups of the 1960s. On the afternoon of Monday, May 24th, 1965 The Yardbirds, with guitar hero Jeff Beck, were signing copies of their latest release For Your Love in Wick's Music Shop. That evening they were on the Assembly Rooms stage, supported by The Aktual Fakts.
The usual format for big-time gigs back then was for the star billing to play a 45 minutes or so set between the local support group, who opened and closed the show. The Aktual Fakts played the first set, a good warm up session of hard driving beat and rhythm & blues. Then the Yardbirds came on to perform all their well known numbers; Still l'm Sad, Heart Full of Soul, Evil Heated You, &c. Time for The Fakts to return and wind down proceedings. Time also for crisis number one; singer Dennis Thomson could not appear for the second half. This left no alternative but for the rest of the group to reappear with a stop-gap singer Johnny Sutherland. Whatever shortcomings there were in this arrangement must have been negligible as The Fakts were complimented on their performance by Yardbirds rhythm guitarist Chris Dreja. But now came crisis number two.
Having nigh on lived and breathed music for the past three years and more, Johnny Sutherland understandably held his guitar playing abilities in high esteem. Now he was forced to question himself. Jeff Beck's performance, his dazzling technique, his creative use of feedback, his improvisational skills had both inspired and demoraiised Johnny. Faced with the stark choice of giving up or totally changing his technique, Johnny opted for the latter. Later that year the Aktual Fakts split up. You Me and Us were Dennis Thomson, Robbie Manson, Sandy Macleod and Donnie Sinclair. Johnny Sutherland and Sonny Flaws with drummer Graham Walker and vocalist Ronnie Barnett became The Fragments, abandoning hit parade pop for a more savoury diet of blues, R&B and proto-heavy rock, ala The Yardbirds, Who, Birds, and similar groups with which the music wind was seeded in late 1965. Read all about it next time.
Steven Cashmore 1998


Information contained on this page may only be used for personal use,any request for full or part publication must be carried out through the Highland archive.
Send information for these archives to william@caithnessarchives.org.uk