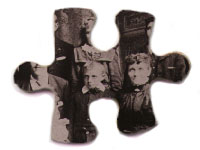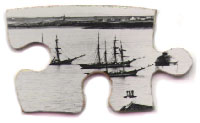 Highland Archives
Northlands Rock: Part Two - The Boys in the Bands
As he climbed the steps which led to the makeshift dancehall, young Willie Wilson was a little uncertain as to what kind of evening was in store for himself and his elder brother, James. A Barn Dance, even at Horace Henderson's Scrabster Farm., sounded suspiciously like a typical squeezebox and fiddle hash of traditional Scottish tunes. Nothing wrong with that, but when you were a regular expresso customer at the 'Ard Tigh' coffee bar in Princes Street, you considered your tastes to be, well ... sophisticated. After all, the coffee bar was where the cool schoolkids went at 4 o'clock to snap their fingers to jukebox rock 'n' roll, smoke, dish the dirt with the pretty assistants, and rub along with some of the young Dounreay scientifics, out for an evening away from Ormlie Lodge.
The music hit them even before they reached the dancehall door. A tight, jumpin' version of the swing classic, American Patrol, sounding so professional that Willie thought his ears deceived him; entering the crowded hall he was inclined to rub his eyes. On stage were five men immaculately dressed in navy blue tuxedos, black trousers and crisp white shirts, quite at odds with what one expected a Barn Dance band to look like. But this was the Blue Rockets, a Wick dance band famed throughout Caithness.
Formed in 1950, the Blue Rockets had a musical core of Jimmy Young, sax; George Lyall, accordian; John 'Mackie' Macdonald, guitar, and drummer Henry Taylor. Trumpeter Davie Dunnet was, more often than not, a regular performer with the Rockets, who never, save for when drink-deluded audience members offered their services, employed a vocalist. With soloists like Jimmy Young and Davie Dunnet, who needed a singer?
Occasionally, visiting musicians would guest with the Rockets. Amongst all the new faces at the Dounreay construction site it was inevitable that there should be a few talented instrumentalists; Patrick Flood, for instance. Flood was a Dubliner, an accomplished trumpet player who sometimes joined the Blue Rockets for a set or two. Then there was 'Jeck' Stewart from Ellen, who could coax a tune from any old piano. Any style, any tempo, 'Jeck' played the lot, even standing in at short notice when teen idol Terry Dene's piano man went AWOL before Dene's Thurso concert.
There were plenty of would-be guest performers, too, especially self-proclaimed 'great sax men', come from the south to give the locals a few lessons in technique. They'd teach Jimmy Young a thing or two if he'd just hand them his sax. He did - and they didn't. Jimmy's saxophone was a one-man instrument, personalised by the addition of sundry rubber bands and pads, and with its reed scraped with a razor-blade. A superb technician who would have made the grade in any dance band, Jimmy Young based his style on the great Sidney Bechet. Whether he was blasting out the lead riff of a drivin' jiver or caressing the melody of a slow waltz, Jimmy was never less than excellent. His fellow Blue Rockets were every bit his equal as they turned out three tunes-in-a-row dance numbers, five night a week from 1958 to 1962.
It was hard work and regular late hours for not much money. Then there was the endless expense of sheet music for the latest tunes everyone was hearing on the radio, learn-by-the-ear rehearsals, and the dubious pleasure of playing on when half the audience were involved in a push 'n' shove melee in the middle of the dance floor. The Rockets performed for energetic crowds of dancers who would jive, tango, samba and jitterbug the night away at venues like Thurso Town Hall, Dounreay's Boston Camp, Reay Drill Hall and the B.B. Hall in Wick where they played memorable gigs in support to a visiting comedy jazz band called Dr Crock and His Crackpots, and to George Chisholm and His Footwarmers, who included in their line-up one George Melly, now famous as a jazz and arts critic. The after concert party was, apparently, a somewhat sociable affair, George Melly being introduced to the visual delights of Reiss at 5 a.m., although whether or not he was fully aware of them is open to conjecture.
The Blue Rockets broke up in 1962, the members going their own ways. Henry Taylor went on to join Bill Johns, who had himself played with the Rockets in the late 50's. Jimmy Young concentrated on his TV and Radio business. Davie Dunnet is presently in Florida, still playing trumpet with a dance band over there.
Such then, were the Blue Rockets, perhaps the best remembered Caithness dance band of the 1950's, and certainly one of the most popular. No wonder Willie Wilson was impressed. Then he would be; he was himself something of an aspiring musician.
Born in the USA, that land of a hundred cultural fragments, rock 'n' roll was the offspring of several sets of parents black and white, country and urban. Mixed in it were elements of jazz, hillbilly, rhythm and blues and gospel, styles stolen, adapted and bastardised. Loud, abrasive and suggestive of things other than moral purity, it matched the mood of a society fast emerging from the traumatic cocoon of World War II. No one can say exactly where rock 'n' roll came out of, but when it hit teenage ears
Caithness is not the USA, but for as far back as anyone can remember it has been a place over which a variant tide of human life has ebbed and flowed. Servicemen and women from all over Britain passed through Caithness on their way to the great naval base at Scapa Flow; strangers came to make roads, others arrived with the herring fleets; then there were German prisoners of war, displaced Polish soldiers, Irishmen come to build wartime airfields and, from 1955, the Dounreay construction workforce, fast followed by the establishment's permanent staff. Plenty of strange accents, unfamiliar faces and cultural traditions. Some decent musicians, too. All in all, Caithness was an exciting place to be in the late 1950's, especially if you were young and musically receptive.
At Isauld, by Reay, lived the musical Sinclair family. Three brothers, Ian, Terry and Don, had played with the Reay Band when they were still in short trousers. In the late 50's they banded themselves together into The Atom City Stompers, a Trad Jazz Band.
Trad Jazz was a European adaptation of an American music form, much in the same way that, 5 years later, the Rolling Stones & Co. picked up Chicago blues and covered it with a British veneer. Serious Trad was played by Humphrey Littleton, Ken Collier and, above all, Chris Barber, a musician deeply versed in the history of black American jazz, from its New Orleans roots, through gospel to blues and beyond. Trad also had a less serious side, a kind of strum-along, oompah brand of music whose only links with real jazz were the instruments employed. Of course, there was much in between these extremes. The Clyde Valley Stompers perhaps best represented this middle ground. They made several Caithness appearances, impressing the local musical public.
The Atom City Stompers lined up as Ian Sinclair, banjo; Don Sinclair, clarinet; brother Terry on piano; 'Workie' Riley, a young Dounreay chemist, trumpet; Dave Lunney, drums and Will Murray, trombone. Later, when Terry Sinclair was called up for National Service, Willie Wilson came in as occasional piano man. They performed at dances all over the county. One well remembered night was in the new hall at Viewfirth when they played for the inaugural Tramps Ball, the place being decked out with bales of hay to give a rustic flavour to the evening. In company with many Trad Jazz bands of those days, the Atom City Stompers sometimes turned out a skiffle tune or two.
For a few months skiffle was Hit Parade stuff. Chas McDevitt and Lonnie Donegan each had top ten sellers, Donegan going on to enjoy fleeting success in America. A purely acoustic music, skiffle utilised a mix of guitar, tea-chest bass, banjo and washboard to knock out a lively version of American traditional blues and folk music. Skiffle was a somewhat limited musical form nurtured by the tutelage of Chris Barber, whose band included Lonnie Donegan. As early as 1954 Donegan had recorded a brace of traditional blues numbers in a rough-and-ready fashion encouraged by his mentor Barber, who was a genuine blues enthusiast, responsible for bringing legendary performers like Big Bill Broonzy and Sonny Terry to Britain. In Caithness, the local musicians kept pace with such doings via the pages of 'Melody Maker', essential reading for music buffs in those days. Skiffle was perhaps a one-year wonder, but it was the learning desk of much of what came after. For instance, in Liverpool a group of young hopefuls performed as The Quarrymen. John Lennon, Paul McCartney, George Harrison - do these names strike a familiar chord?
The Burnsiders played nothing but skiffle. There were five of them. Billy Davidson sang, Jackie Murray played guitar. Weekend bookings, often in support of other acts, The Burnsiders skiffle career didn't last more than a year or so. A fellow skiffle outfit, The Teenagers, had a much shorter innings, little longer than an early 1959 gig as support to the Nightstars dance band at the old Boys Brigade Hall in Wick. Who were the Teenagers? Does anyone remember them?
An unsung contributor to the Caithness teen music scene was the Salvation Army which provided not only high quality musical tuition, but was also a supplier of brass instruments to young trumpeters and trombonists, who would turn out on Sunday for a stint in the Army Band with the residue of a Saturday night trad session still ringing in their ears.
And all the while, attracted by the sudden Dounreay-generated prosperity, a succession of quality rock 'n' roll acts booked in to Caithness, brought here by agents such as Alan Martin Enterprises and the Fehilly brothers Glasgow Dance Promotions. Peem Guthrie and the Top Tuners; Tradstar Ian Menzies and his Stompers, featuring Jean Lamb; Scotland's Queen of Rock 'n' Roll, Marion Tennant,`the Blonde Bombshell from Glasgow; and Edinburgh's Golden Acres, a class act which included singer Sandra Dee, along with guitarist Tommy Brodie, 'Fats' Walker, John Mclntyre and keyboard player Gus McDowall, who played an electric piano, these were some of the aural treats set before the Caithness music public in the late 1950's.
The main venues for all these visiting acts were Thurso Town Hall and the Boys Brigade Hall in Wick. Buses brought fans from all over the county to these halls. Occasionally, to ensure a good attendance, the first 10 girls on a bus were admitted free to the dance in company with the first 10 at the hall door. Sometimes there would be a concert, occasionally two houses for certain big acts; always there was a dance. Hot dogs with onions were available on more than one occasion, and a regular attender recalls sliding around on a floor liberally carpeted in slivers of greasy onion.
The dates in between the appearances of guest bands from the south were padded out with competitions and theme evenings. The Glasgow Dance Promotions affairs were particularly generous as far as prize money went, 'Miss Valentine' receiving E5 with an additional E4 for the winners of the Rock 'n' Roll competition. May Queens won a similar sum, but just what the winner of a 'Male Beauty Contest' once held in Wick's B.B. Hall got, other than a red face, remains to be discovered. A witness to this unique event remembers four would-be Adonis's parading the stage to an accompaniment of howls and catcalls.
No opportunity was ever lost to promote an out of the ordinary dance night. When the warship 'HMS Wooton' dropped anchor off Caithness a 'Sailors Night' was advertised to which visiting matelots got access for nothing. The music at these novelty events continued to be provided by a mixture of young local groups like the Atom City Stompers and The Delawares, and old hands such as the Blue Rockets, the Atomaires, the Melotones and the Night Stars, all brass-based dance bands, full of good musicians.
Skiffle died but not the Burnsiders; with modifications they transformed into a solid rock band known as The Delawares. Ian Shearer, lead guitar; Jackie Murray on bass, along with drummer Sinclair Wallace, rhythm guitarist come sometimes vocalist George Boyd and singer Hugh McLeod became the local mainstay of Glasgow Dance Promotions Caithness dances between 1959 and the end of 1960, when George and Hugh went back south as the Dounreay construction programme wound down to a whisper. In their 'best of Hepworth's' jeans and sweater stage uniforms the Delawares played hourly sets of the latest teen hits by Cliff Richard, Conway Twitty, the Shadows and other Top Ten favourites. They played a bit of Country and Western, too, a musical style which seems to have been ever popular in the North.
Another local metamorphosis was that undergone by the Atom City Stompers who reinvented themselves as The Nomads, a four-piece outfit comprising guitarists Ian Sinclair and Davie Calder, Dave Lunney, drums with Willie Wilson on piano. These youthful enthusiasts delivered a largely American influenced selection of rock 'n' roll songs based on originals by Elvis, Buddy Holly, Chuck Berry and Jerry Lee Lewis. One well Nomads remembered highlight was the old Ray Charles classic What'd I Say with its distinctive jazzy rhythm and infectious piano intro.
The popular music explosion of the late 1950's went hand in glove with advances in record production methods and sound reproduction. Record players got smaller, became portable, and forward strides in electronics made it possible to fill large rooms with recorded sound. Unbreakable seven-inch 45's and microgroove L.P.'s quickly superseded the old shellac 78 rpm discs which now seemed out of place in the hands of teenagers high on the excitement of rock 'n' roll. In 1958 Mr Charles Tottle, Dounreay's deputy director, had given a concert of recorded music in the Thurso Town Hall Bandroom. No doubt that, given Mr Tottle's reputation as a cultured kind of fellow, the music was tastefully selected and well received; no doubt, also, that what Mr Tottle's audience heard was a different blast of trumpets from what was on offer at a Jumper, Jeans and Pony Tail Night a year later, when the latest waxings by Elvis, Cliff, Marty Wilde and Connie Francis were spun. Primitive Disco had come to Caithness.
By 1960 the teenage music scene had changed. In America big business and the country's moral guardians had succeeded in bridling the virile and unruly rock 'n' roll stallion. Elvis had been received Uncle Sam's call and was in the army, Little Richard got religion and pitched his worldly baubles into the sea, and Jerry Lee Lewis was in terminal disgrace after being deported from Britain with his 13 year old bride - who also happened to be his cousin. Payola and the slick promotion of sanitized mummy's boys with baby faces and high school sweaters had effectively castrated music with a menace. But aside from all this commercial manipulation, rock 'n' roll had run its course; its bolt well and truly shot, it survived on the forlorn hope that the old rockers could somehow keep the vital flame alive. But life is no respecter of forlorn hopes; and bottled lightning has a short shelf-life.
In August 1961 Glasgow Dance Promotions pulled off a major coup when they brought Gene Vincent to Wick. A worldwide Top Ten sensation with Be Bop A Lula, Gene Vincent was already something of a legend of whom great things were expected. A large crowd packed Wick's B.B. Hall to where buses had ferried teenagers from all over Caithness. Boys wearing sun glasses, girls sporting white stilleto-heeled shoes and tight skirts, black the predominant colour, set off with the occasional white tie or spotted blouse. The star was about an hour late on stage. He too was dressed in black; black leather with a large gold medallion hanging from his neck. Leaning on the mike, one leg thrown forward, an agonised figure, his face contorted with the pain of being· a rebel in 1961, he ground out all his old hits. Some girls screamed; but black leather and familiar songs could not disguise the fact that Gene Vincent was washed up, spent, fit only for a nostalgia trip his audience were too young to embark on. He looked blown and middle-aged (he was 26), and no wonder. Five years of life on the rock 'n' roll road with all its sensual distractions had taken its toll on a man not physically robust to begin with. A bottle a day whisky habit was not much of a help, either. Gene Vincent left more than a few disappointed memories behind him when he quit Caithness.
Hindsight often reveals that the end of one era overlaps the beginning of its successor, and so it was in August 1961. Union restrictions having prevented his own band, the Blue Caps, from crossing the Atlantic with him, Gene Vincent had been forced to use a British backing group called Sounds Incorporated. Sounds Incorporated were a somewhat loose association of session musicians who played, unacknowledged, on many of the home-grown rock records issued by British labels in the late 'fifties and early 'sixties. They were not renowned for their good looks, but they could certainly turn out the tunes. A drummer in Sounds Incorporated remembers being in almost full time attendance at a London recording studio, laying down the backing beat behind a multitude of teenage idols whose own groups were either musically useless, or took far too long to get things right. One week after Gene Vincent's Wick gig, Alex Harvey and His Wild Ones made another appearance in Caithness. Billed, with some justification, as Britain's Wildest Man of Rock, Glaswegian Harvey had first played Wick's B.B. Hall in September 1960. A high octane excitement act, Alex Harvey and Co certainly didn't need session musicians to underwrite their rockin' credentials. Nevertheless, Sounds Incorporated and the Alex Harvey Band had this much in common - they both belonged to the day after classic rock 'n' roll.
In Britain, where rock 'n' roll had been much less of musical phenomenon than it was in America, the new decade marked a sort of pulling together of all the various threads which had constituted popular music over the previous 5 years. Popcorn pop, danceband jive, skiffle, trad jazz, rock 'n' roll; these formed the multi-coloured shell of a musical egg in which a new, and largely British, chicken was slowly hatching - the Beat Group.
In the next article in this series read about dance crazes, the Irish invasion, and The Beatles in the Highlands.
Steven Cashmore 1998


Information contained on this page may only be used for personal use,any request for full or part publication must be carried out through the Highland archive.
Send information for these archives to william@caithnessarchives.org.uk