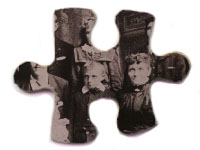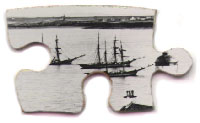 Highland Archives
BLUES LEGIONNAIRES
By Stephen Cashmore
Scottish influences on the Blues go back a long way. In mid 'fifties America, blues shouter Tiny Grimes appeared on stage with his Rockin' Highlanders resplendent in tuxedo jackets, silk socks, wrap-around shades and kilts. A bunch of very sharp dudes indeed, typical of those far away days before young European palefaces tuned in to the raw, black sounds that blared out of numberless juke joints, record shacks and seedy clubs from Texas to Chicago. This potent musical seed found a vacant womb, ripe and ready for filling. The result is best traced in the careers of the Rolling Stones, Led Zeppelin, Eric Clapton, all those millionaire rockers whose early days were spent solitary in a cold bedroom, struggling to master the chords of the latest Bo Diddley record.
Age has diminished neither the potency of blues music, nor its ability to adrenalise even the most lethargic natures, a power most ably demonstrated by 'Howlin' Gaels' at their recent gig in Thurso's British Legion Club. Loud, high-octane sounds, raucous and exciting, driven by a controlled virility that always hits the spot just right, blues played this way is music's equivalent to the Kama Sutra.
With a wailing harmonica intro to the old Peter Green classic 'Goin' Down', kilted singer Donnie Williamson set out the evening's stall, while his three Gael confederates slipped into the classic attitudes of a bona fide blues band. Casual and unanimated, the lead guitarist threw off a string of effortless solos, as though it was the most natural thing in the world to do. The bass player, an intense, determined young man, swooped his fingers up and down the four thick strings, the plunging notes like the pulse of a supercharged engine driving the music forward, while behind him, the drummer showed that he had mastered the unwritten secret that baffles so many. It is this: at no time should the beat sound as though it is produced merely by the action of wooden sticks bashing stretched skins. Simple, isn't it? - Believe me, it isn't.
'Goin Down' was followed by a slew of blues-based familiars spanning the past three decades. There was Barrett Strong's 'Money', covered by just about every British R'n'B band in the 'sixties, and Wilson Pickett's classic twosome 'The Midnight Hour' and 'Mustang Sally', the latter a trademark number for the Gaels and well-known by their regular following. This was soul in a blues suit, so too, was 'Knock on Wood', that all-time favourite memory with Viewfirth dancers of 30 years ago. Dues were paid to another legend of that era when the Gaels blasted out tight, controlled versions of Jimi Hendrix's 'Stone Free' and 'Let Me Stand Next to Your Fire', resisting the temptation to indulge in long-winded and unnecessary solos. One number the band did extend by skilfully medleysising into it Cream's 'Sunshine of Your Love', was Reef's 1998 anthem 'Place Your Hands', a combination that had everybody up and dancing.
But the Gaels don't just put on other folk's clothes - they write their own numbers, too. Highlight of the evening was their airing of 'Where is the feeling', an intense, emotion twisting number taken from their forthcoming album 'Twelve Bars Too Late', due on the record shop shelves in October.
Outside, blues echoes and the dark, wet streets resurrrected memories of a winter's morning years ago, in south-side Chicago, the only white face on the block, and one of life's great shocks - to hear from the mouth of a black youth that Elton John meant more to him than Chuck Berry. While daundering home pondering all this, a bumped-into acquaintance, out on the tiles, asked if I'd been to see one of the 'tribute bands' who nowadays appear in Thurso with monotonous regularity. In a way, yes. The Howlin' Gaels are a tribute; a tribute to the enduring tradition of live blues in the Far North. It is a tradition loyally supported - sign on to it next time these modern Rockin' Highlanders are in town.
Steven Cashmore 1999


Information contained on this page may only be used for personal use,any request for full or part publication must be carried out through the Highland archive.
Send information for these archives to william@caithnessarchives.org.uk