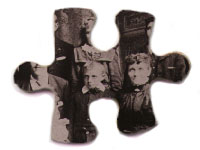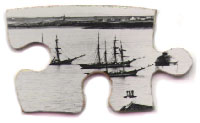 Caithness Archives
The Davidsons Of Caithness
Part One - Aimster And Buckies
Amongst the correspondence files of the late Donald Carmichael, Dounreay's first chief Administration Officer, was a copy of a scarce booklet entitled The North African Diary of Major J.H. Davidson, D.S.O. Jack Davidson, a Caithnessian who served with the 5th Seaforth Highlanders during the last war, is known to military history buffs mainly through the extensive extracts from his diary which appear in Alastair Borthwick's recent book Battalion; but the connection with Donald Carmichael was not, at first, an obvious one. From small seeds, however, large trees are prone to grow ...
Between 1930 and 1943, the year of his untimely death, Jack Davidson owned the farm of Lower Dounreay, 400 acres of first-class Caithness farmland, where the Dounreay nuclear establishment now stands. Jack is also thought to have been cousin on the distaff side to the Carmichaels of Reay. There is more: shortly after Jack Davidson's death his widow emigrated to South Africa, together with their daughter Elizabeth. Elizabeth has recently returned to her homeland, come back to Caithness after all those years.
Many eminent people have written Scottish history with more or less factual accuracy, but one of the finest sources of information on this country's past lies in a place not normally considered to be a reliable repository of undisputed fact - the novels of Sir Waiter Scott. In many ways a man born in advance of his due time, Scott wrote not history, but film scripts a century before the invention of the cinema. No serious history student would turn Scott's pages in search of historical truths, but as an evocation of what the majority of us want Scottish history to be, Scott's books have no equal. In his Tales of a Grandfather an account is given of a combat which supposedly took place on the North Inch of Perth in 1396, between 30 members of Clan Macpherson and 30 from a fellow sept of the great Clan Chattan, known as the MacDhai's, or Davidsons.
The roots of the North Inch fight went back a hundred years to a feud between the Davidsons, Macphersons and Macintoshes of Clan Chattan, and their neighbours, the Camerons, when, prior to a battle between these warlike Highlanders near Lochaber, a dispute as to which sept was to lead Clan Chattan in the fight led to a falling out between the Davidsons and the Macphersons, which caused the latter dan to leave the scene in a huff, an action for which they were jeered at as cowards by the Davidsons. The Camerons duly defeated, Davidson and Macpherson then turned on one another in a war of merciless extermination, which threw the entire central highlands into such an uproar that king Robert III was forced to attempt settlement of the affair through the celebrated North Inch combat.
The simmering resentment of a hundred year feud combined with a fight to the finish between 60 fierce warriors armed to the teeth with swords, battle-axes and daggers, in the presence of their king, is the common substance of many medieval romances. To this violent stew was added an additional spice. A moment before combat was due to commence one of the Macphersons cried off. Some say he fell sick; others that he swam across the Tay panic-stricken, a coward. No matter the reason, the Macphersons were a man short. Enter Henry Wynd, burgher of Perth, a blacksmith by trade, as broad as he was tall, bandy legged and strong as an ox. Henry would fight on the side of Macpherson. At the given signal a ferocious conflict began. In the words of the chronicler, "Heads were cloven asunder, limbs were lopped from the trunk. The meadow was soon flooded with blood and covered with dead and wounded men." At last victory declared for the Macphersons, 19 of whom lay dead on the field, the remaining 10 severely wounded, barely stood conscious. Only Henry Wynd remained unscathed. By his superior swordsmanship the smith had not only avoided wounds, but was greatly responsible for the deaths of 29 Davidsons, the sole survivor of whom escaped unhurt by swimming the Tay. So much for romantically embroidered history; what else do we know of these Davidsons, and what part did they play in Caithness history?
At the end of the 13th century the Mac Dhai's were a numerous and powerful family in Lochaber and Badenoch. One branch of this dan lived at Invernahavan on the banks of a tributary river of the Spey, to where, in 1314, came an envoy of Robert Bruce requesting that the proprietor of Invernahavan, John Davidson, rally his dan in support of Scotland's beleaguered king. Old John had three sons, one of them a youth too tender-yeared to bear arms. The two eldest, John and Duncan, accompanied their father to Bannockburn where, as everyone knows, the Scots army achieved their famous victory over the English invaders. The Davidsons fought well and hard, emerging from the fray unscathed and laden with honours. Robert Bruce, a chivalrous king not likely to forget sterling service, granted the sons of John Davidson certain lands in the shire of Caithness, of which they took possession in 1315.
Geise, Buckles, Aimster, Skinnet, Braal together with the commons connected with them on the west side of the Thurso river; the lands of Todholes, Weydale, Achingills, Hilliclay, Carsgoe, Sordale, Hoy and Quarry Crook to the east of the river; these were the rewards of Davidson heroism at Bannockburn, a more successful outcome than that which befell their cousins at the North Inch.
John Davidson built a castle at Aimster from which to oversee his estates; his brother Duncan lived at Achingills, 'the young man's share'. For the next three centuries the lives of the Davidson lairds probably mirrored those of similar families throughout Scotland; hunting, administering their estates, collecting tributes, rents and taxes, endowing churches and chapels, supplying soldiers in time of war, forming marriage alliances with other powerful Caithness families, all the duties and privileges of feudal landlords. They no doubt shared in the convulsions of the Reformation, dabbled in peripheral intrigues in the complex politics of Queen Mary's reign, and took one side or another during the religious wars of the 17th century. This latter struggle led to their temporary downfall.
In common with many Highland gentlemen of his time, Archibald Davidson, 12th laird of Aimster considered his rightful allegiance to belong to his king. Accordingly he espoused the cause of the unfortunate Charles the First in the civil war, being numbered, perhaps, with those Scots cavaliers who engaged Cromwell's Roundheads at Worcester in 1651. Three thousand Scots died on the Worcester battlefield, ten thousand prisoners were shipped off as slaves to the plantations in North America, the King fled, and Cromwell invaded Scotland. Archibald Davidson returned to Caithness a ruined man. In 1654 financial pressures forced the sale of Aimster, the Davidsons removing to Buckles where a branch of the family remained until as recently as 1973.
Archibald had one son, George, an indifferent farmer, a poor soldier but a keen scholar who spent most of his daylight time in Thurso instead of working the land. George married one of the family servants, daughter of a Calder farmer. On this woman he fathered three daughters and a son. The girls all married well into local families of note, - the eldest, incidentally, was grandmother to a Sinclair of Isauld, another name connected with the preatomic history of Dounreay. George Davidson's only son was William, born in 1665 and commonly known as 'Uiliam Mhor', or Big William on account of his brawny build and great physical strength. When William was yet a young man, George Sinclair, 6th Earl of Caithness was forced to sell his estates to Campbell of Glenorchy, a somewhat self-important individual, who claimed the Caithness Earldom on Sinclair's death. In a county filled with Sinclair lairds this was a most unpopular thing to do, and the disturbances arising from it led to Glenorchy's 1680 march north at the head of 700 fellow clansmen. The story of the battle at Altimarlach, near Wick, which resulted in the total defeat of the Sinclairs is a painful episode, too well known to bear repetition; suffice to say, from that day on the Campbells became major players in Caithness affairs.
To Aimster came Donald Campbell of Breadalbane, factor for Glenorchy. Big William Davidson, resentful of a stranger's presence in his grandfather's old house, took an instant dislike to the new factor. This hatred was mutual, but Donald Campbell had a sister, Isobel, for whom Big William harboured feeling far different from those he had for her brother. Isobel Campbell being of similar mind, herself and William began a courtship, heedless of her brother's attempts at scuppering their relationship. One day as the two men were returning home from Thurso their paths crossed. Suddenly all the accumulated hatred and smouldering resentment long felt by both parties came flooding to the surface, bursting out into a fearsome fight in which Big William crushed his opponent so thoroughly, that he had to carry Donald Campbell senseless back to Aimster. This brawl effectively ending the bad feeling between the two men, William Davidson felt free to marry Isobel Campbell, who bore him 3 sons and 2 daughters, of whom more in a moment. Importantly, the marriage restored Aimster to the Davidsons.
Big William Davidson was 81 years of age when Prince Charles Edward met defeat at Culloden in April 1746. A month after that mournful event, the Prince's fugitive followers appeared in Caithness, living off the land, begging what they could, and stealing the rest. One day a trio of these tattered desperadoes arrived at Buckles where they found the place deserted, the farm servants being away at the peats. Entering the house they saw an elderly man sitting beside his fire. "Turn out your money", they ordered, rudely motioning him into another room. When Big William arose from his chair, a huge figure in a violent rage, these would-be extortioners realised their mistake. They cowered in a corner, fearful for their lives. But William Davidson was a kind man at heart; he took pity on his ragged guests, treated them to bread and cheese and shook their hands on parting. Seven years later, in 1753, Big William died, greatly missed by his neighbours and many friends.
Big William's eldest son, George, another work-shy scholar who preferred to spend his days in Thurso, chose Aimster for his portion, leaving Buckles to his younger brother, James. George had 7 sons, 3 of whom died in infancy. Of the 4 survivors, William, the eldest took up an army career, returning from India mentally affected by sun-stroke. His brothers, Alexander and James both had extensive families, several sons serving as officers in the British Army. One of James's sons, named after his father, but generally known as 'Bulloch', was party to an escapade involving his eldest son, which is both daring and worth recording.
At the end of the 18th century Glasgow's star was in the ascendant; the fortunes made from its American tobacco trade had been invested wisely in industries such as cotton spinning, fabric dyeing and chemical factories. It was a wealthy place; an infectious buzz and bustle filled the air, raising business confidence and creating wealth and jobs. To this great city journeyed George Davidson, eldest son and striking lookalike of James of Aimster, commonly called 'Bulloch'. This George was a clever young fellow with a penchant for commercial matters for which Caithness had limited outlet. Young George found work with a Glasgow bank, where his industry and resolute application soon promoted him into a position of trust, which also gained him entry into polite society. The social hurly-burly of Glasgow was a distant cry from the sedate life of a Caithness lairdling, but George, having the natural graces and ease of a born gentleman, soon found his footing in the city's high society. Within a short time George was keeping close company with of one of Glasgow's most courted young ladies. As well as beauty, George's girl had style and taste of the most refined type. Such luxuries are not without price, as George discovered to his cost. Pretty soon his expenditure exceeded his salary to a degree beyond what was wise; but he could not forgo the pleasure of his young lady's favour. Infatuated, addicted and blind as only a lover can be, George Davidson resorted to forgery in an attempt to maintain his high-flying lifestyle. Disaster followed: his forgery detected, poor George found himself in goal with the prospect of a long prison term hanging over him. Only then was George restored to his right senses.
When the bad news reached Aimster, 'Bulloch' was stunned to hear of his son's predicament, for in those days the word leniency was seldom heard in a court of law. But 'Bulloch' was nothing if not practical; he rushed off to Glasgow as fast as horse and mail coach would carry him, arriving at the prison to find his son not yet brought to trial. Young George was astonished to see his father enter his cell dressed as a minister, but 'Bulloch' knew very well what he was about. A minister's request was a thing seldom refused in the 18th century, and 'Bulloch' and George soon found themselves left alone. When the minister left the cell a short while later, the guards wished him a respectful farewell. Had they looked closer at him, they might have noticed a change in his features, for the minister who left the Glasgow goal was some twenty years younger than the one who entered it.
A free man, George Davidson hurried to Greenock where he took ship to France, a passage arranged in advance by his astute father, whose deception remained undetected just long enough for George to make good his escape. When the police found out that they had been duped they were not overpleased. 'Bulloch' found himself at the sharp end of some very persuasive questioning. He resisted it all, sending the officers off on a wild goose chase to Aimster where, despite ransacking every house, and even slashing open all the mattresses, they found no trace of George Davidson.
For a while things looked bad for 'Bulloch' Davidson. He remained locked up while the authorities debated what to do with him. However, even the hard-headed Glasgow lawmen must have had a sneaking admiration for 'Bulloch"s escapade, and this, combined with the urgencies of the war Britain had just commenced with Napoleon, secured his eventual release. He returned home to Aimster a hero. And George? His good luck continued; in France he met and married a Frenchwoman, rich in property and money, with whom he settled down, a fitting end to a romantic episode. Incidentally, George was not the first Caithness Davidson to find a home in France. In Henderson's Caithness Family History mention is made of a John Davidson, Commisary of Caithness, whose eldest son, William, was served heir to a Samuel Davidson, residing in France, in 1632.
For the rest of the 19th century the Davidsons of Buckles and Aimster lived a fruitful life, marrying with their Caithness neighbours, multiplying their numbers. Many of the Davidson men went off to serve in the army; some of them died on foreign fields, others found homes outwith Caithness, but always enough remained in the county to ensure the family's importance as landowners and farming folk. Of those who stayed in the county several played important rbles in the agricultural improvements of the time, John, a son of Buckles serving as factor to the celebrated Sir John Sinclair of Ulbster, arguably the greatest name in the history of Scottish agriculture. Similarly many of the Davidson girls married into notable families throughout Scotland, raising children, playing hostess and generally maintaining the high domestic standards expected by the polite society of the 19th century.
Descendants of this extensive family are still to be found both in Caithness and elsewhere in the world. To one of them, Elizabeth Nicholson, I am obliged for much of what appears above, the basic information originating in a letter Benjamin Davidson of Aimster wrote to his niece in 1868. Elizabeth would be pleased to hear from any Davidson who may wish to consult this document. Her postal address is: 2 Spittal Cottages, Threipland Place, Spittal, by Halkirk.
Steven Cashmore 1998


Information contained on this page may only be used for personal use,any request for full or part publication must be carried out through the Highland archive.
Send information for these archives to william@caithnessarchives.org.uk